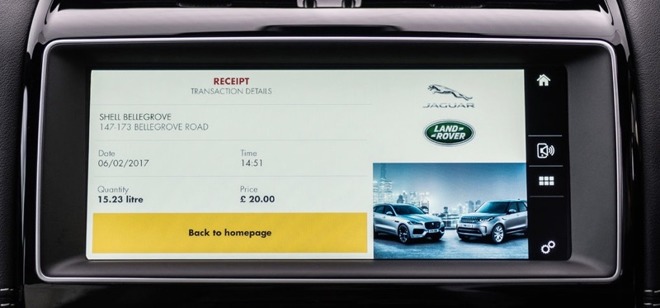 What it is: Jaguar and Shell have collaborated on a car app that allows drivers to buy gas using Apple Pay.
When most drivers need gas, they pump the gas themselves and pay for it using cash or a credit card. However, Jaguar and Shell have come up with an app that appears inside the dashboard screen. Instead of paying at the pump or handing a credit card or cash to a cashier, this dashboard app lets you tap your iPhone, iPad, or Apple Watch near the dashboard screen to pay with Apple Pay.
Of course, you still have to get out of your car to pump the gas, but the convenience of paying with Apple Pay without handing over your credit card is an advantage. A bigger advantage will likely be the ability to make payments from within your car without leaving your car at all.
Imagine pulling up to the drive-through window of a fast food restaurant and paying for your food with Apple Pay through the dashboard app. Now you have one less hassle to deal with. Suppose you drive up to a toll booth. Instead of hunting around for change or your wallet, simply pay with Apple Pay and drive on through. Pull into a parking lot and rather than stuff money in a payment box or pay with a credit card, just pay with Apple Pay through the dashboard app and be on your way.
Apple Pay on the dashboard offers an extra level of convenience with the bonus of e-mailing you a receipt so you can track your expenses. You'll know the exact time, date, and location where you spent money so Apple Pay can help you track your spending habits as well.
Contactless payment systems like Apple Pay are the future. While cash can still be convenient, swiping a credit card is not, especially with the added risk of surrendering your credit card number to a retailer, which greatly increases the security risk that someone can steal your credit card number.
Apple Pay is going to become as commonplace as VISA and MasterCard. The big difference is that Apple Pay will be highly visible everywhere while disguising your credit card. Pretty soon it retailers won't advertise which credit cards they accept. They can just list what contactless payment systems they accept (Apple Pay, Android Pay, and Samsung Pay) and that will be enough.
While the idea of paying through a dashboard app may not sound revolutionary, it simply points to the future where Apple Pay is everywhere. The more people use Apple Pay, the more people will need Apple products. That just means more hardware sales for Apple and greater revenue through Apple Pay as well.
If you haven't signed up for a contactless payment system like Apple Pay, you're already missing out on the convenience that it offers and you'll never know the benefits (and drawbacks) until you actually try it for yourself. Today, people are buying iPhones, iPads, and Apple Watches for the hardware features. Tomorrow, people will want to use Apple Pay, which means they have to buy an iPhone, iPad, or Apple Watch.
Software will soon sell hardware, not the other way around. That means future success for Apple Pay and Apple products as well.
To read about Jaguar and Shell's dashboard app, click here.