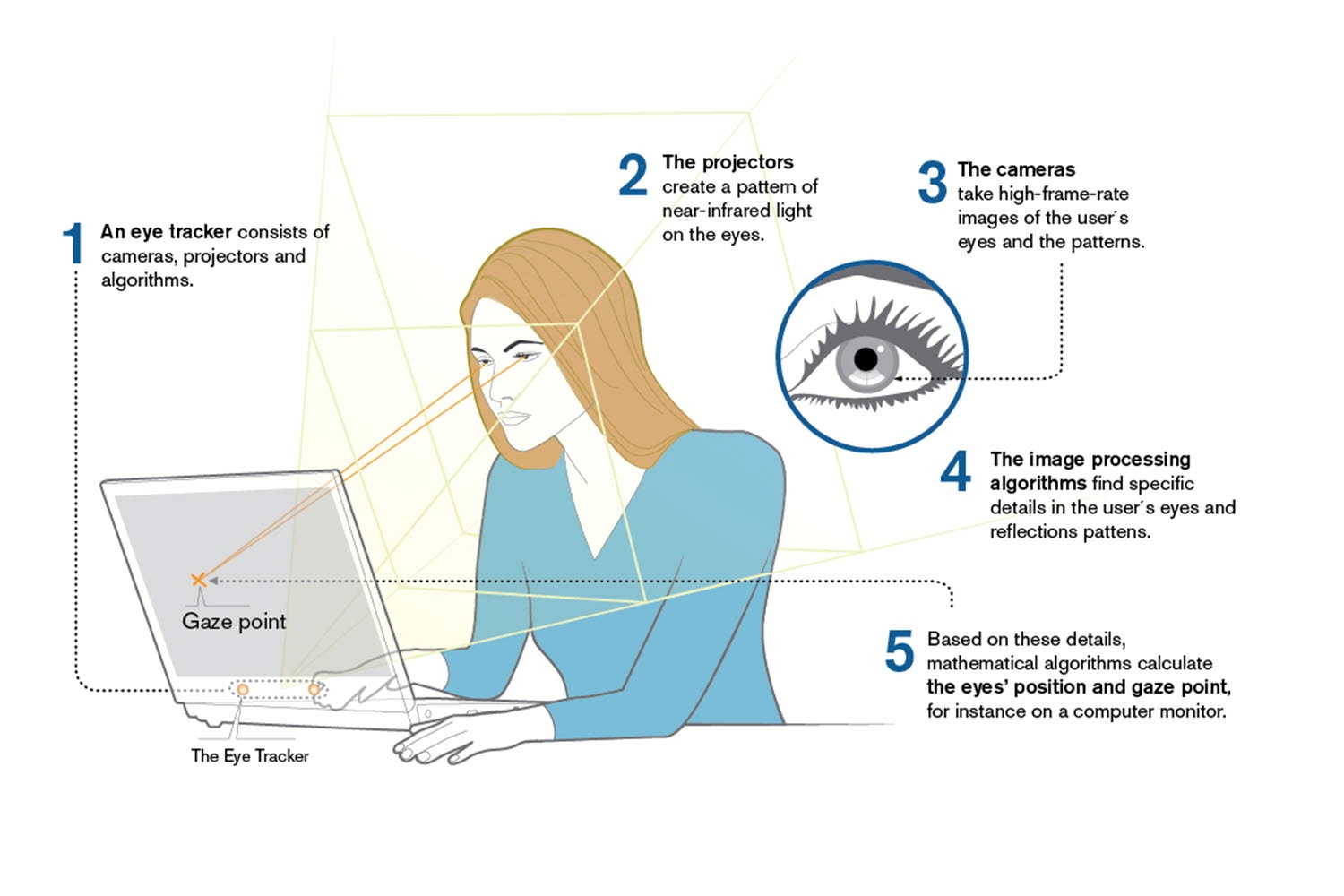 What it is: Eye tracking technology is both an input device and an analysis tool.
At the CES this year, Acer announced a gaming monitor that includes eye tracking. This lets compatible video games track the user's eyes and react accordingly. Eye tracking can thus be a supplemental input device along with the keyboard and mouse.
By simply looking at a specific spot on the screen, eye tracking technology can select or move the cursor. For people unable to use keyboards or other standard input devices like a mouse, eye tracking could actually be the sole input device but for most people, eye tracking will likely prove useful as a way to monitor the user's eye movements.
While driving, a smart car could detect the driver's eye movements to detect drowsiness or drunkenness that could affect the driver's ability to control the vehicle. Just as breathalyzers can prevent drunk drivers from starting a car, eye tracking technology could help alert drivers to wake up or pull over. If the driver fails to comply, eye tracking technology could simply slow or shut down the car altogether.
Such eye tracking technology could also detect distracted drivers who may be looking at their smartphones instead of watching the road. While many people may not want such eye tracking technology in their cars, it could start off as a specialized device for drivers most at risk such as teen drivers or drivers with a history of drunk driving violations. Later, eye tracking technology could become a standard safety item like seat belts and air bags.
Eye tracking technology may have far greater uses for analysis. Look at the standard web page that displays ads and eye tracking technology could tell which ads people tend to look at more often. This could help you optimize the placement of ads on a web page.
Add eye tracking technology to billboards or signs in a mall where it could monitor pedestrians strolling by, and then you could optimize sign or ad placement based on eye tracking analysis. This may sound like an invasion of privacy but it's not monitoring a specific individual so much as it's monitoring the collective behavior of a group.
Casinos and airports could use eye tracking technology to detect suspicious people. If someone's eyes don't follow the standard pattern of an ordinary person, eye tracking technology could alert authorities to watch that person more closely.
Eye tracking technology may seem like a silly feature that nobody will use just to play video games, but it offers the potential for so many more uses beyond the obvious. If Acer can make a monitor that tracks your eye movements, other computer monitors, laptops, smartphones, and tablets will be able to do the same as well. Eye tracking technology is coming to a device near you. Let's just hope it proves useful and not just a gimmick designed to add yet another feature with no practical application.
To learn more about eye tracking technology, click here.