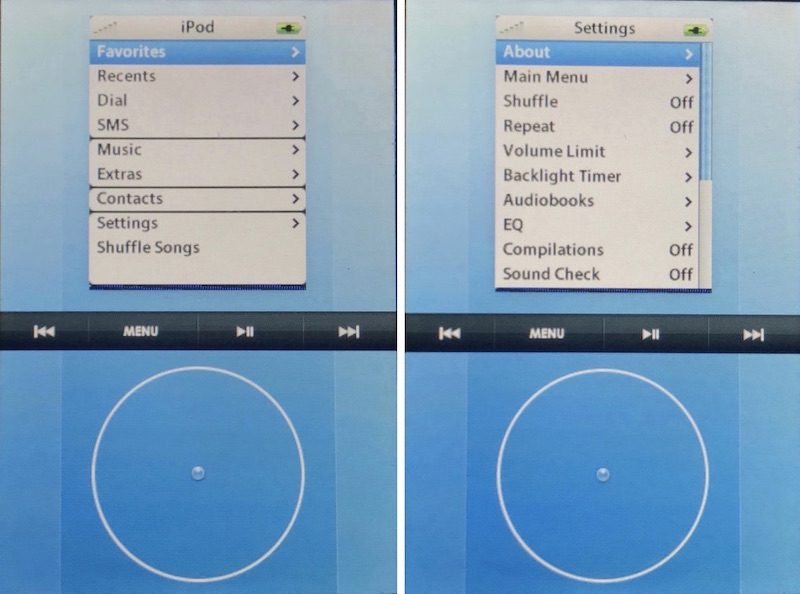 What it is: At one time, Apple experimented with using the click wheel interface of the iPod as the main interface for the iPhone.
The simplest, but also least effective strategy for dealing with the future is to rely on the past. At one time, MP3 digital players all sported different ways to search, play, and view the different songs stored on the device. When Apple came out with the iPod, they offered a unique click wheel interface that let you press on it or rub your thumb along its edges to scroll through options or lists of songs.
This click wheel interface took some getting used to (and today, many people will likely find it non-intuitive), but back in those early days, the click wheel interface proved simple and easy to use, which helped make the iPod the standard MP3 digital music player in the market.
So when Apple was experimenting with the iPhone, one early prototype also used this same click wheel interface. The theory was that if people found iPods simple to use, then the click wheel interface could possibly work for the iPhone as well.
The idea of applying a successful user interface for one device to another seems to make sense, until you realize that strategy doesn't always work. The touch screen of the iPhone proved revolutionary and redefined how smartphones and later tablets work. If Apple had chosen the click wheel interface, chances are good the iPhone would never have been the success it is today.
The main reason why dragging old user interfaces into the future doesn't always work is because a user interface optimized for one type of device isn't likely optimized for a different type of device. The touch screen of the iPhone not only changed the way smartphones look and work but also changed the way the iPod works with the iPod touch that looks much like an iPhone but without calling capabilities.
The lesson is clear. User interfaces need to be optimized for specific devices and dragging older user interfaces into the future rarely works.
As proof, look at the problems Apple and Microsoft have both had. Apple keeps adding features to iTunes. Originally, iTunes was meant to play and manage music along with synchronizing data between a computer and a separate device such as an iPod. Now iTunes is used to manage music and video, and synchronize data between an iPhone and iPad and a computer. In short, iTunes is getting clumsier to use because the original, clean design has been tortured into becoming a general purpose synchronization tool.
To see Microsoft's failures, just look at how they design user interfaces. Once Windows proved successful on PCs, Microsoft tried to force the same Start menu interface on to smartphones with Windows Mobile. Where the Start menu worked on PCs with large screens, the same Start menu interface worked horribly on the smaller screens of smartphones with Windows Mobile.
Once Microsoft realized this, they created a tile interface for smartphones for Windows Phone, their new operating system. This tile interface, while not revolutionary, was at least an improvement over Windows Mobile and optimized for the smaller screen of smartphones.
Unfortunately, Windows Phone as an operating system, was only designed for smartphones and not tablets. That's why Microsoft couldn't scale Windows Phone to run on tablets and opted to create yet another operating system just for tablets called Windows RT. In the meantime, once Microsoft got the tile interface working right for smaller smartphone screens, they made the same mistake (except in reverse) when they tried to move the tile interface to the large screens of PCs with Windows 8.
Windows 8 is universally derided as a horrible user interface because where the tile interface works well on small screens, it works horribly on larger screens, just like the Start menu interface worked well on large screens but worked horribly on smaller screens. The lesson to be learned (which will quickly be forgotten) is that dragging older interfaces into the future rarely works because the advantages of the interface on one device disappear completely on another device. Instead, it's far better to optimize interfaces for specific devices.
This is why Microsoft's Windows 10 everywhere initiative is doomed. People don't want one interface everywhere. They want the best interface possible for each specific device. In the early days of cars, some early cars forced you to steer using a rudder that looked much like a boat. That's because more people were familiar with boats than with cars. Nowadays, would you want to steer a car with a boat rudder? Dragging older interfaces into the future doesn't work.
If you want to see the next user interface disaster, watch for any company trying to force an older user interface to work on a newer device. In other words, given a choice, would you want a user interface optimized for a specific task or would you rather have a user interface tortured into working for a different task? The answer is obvious. What's not so obvious is why companies keep making the same mistakes time and time again.
To read more about Apple's original click wheel interface for the iPhone, click here.