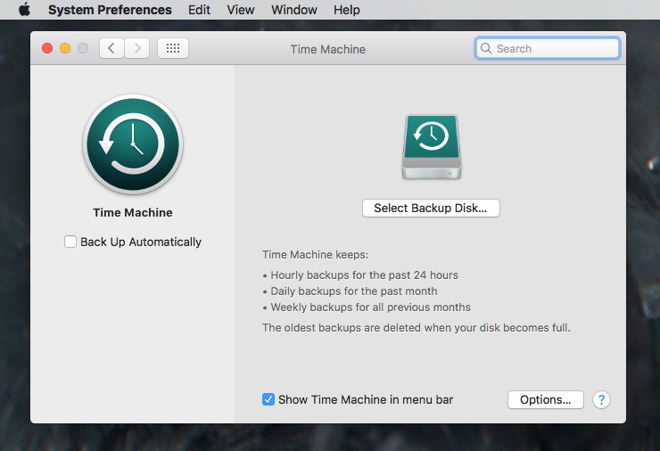 What it is: Time Machine is just one of many options for backing up your data.
Assume anything you do on a computer will be lost eventually. Unfortunately, most people never think about backing up their data until they lose something valuable. Then suddenly they realize they need a backup system. Once you lose critical data and understand the importance of a backup system, the next question is to decide how to backup your data.
The simplest solution is to buy an external hard disk and start using Time Machine. Time Machine takes snapshots of your Macintosh every hour and stores them on an external hard disk. Now if you need a single file from the past, you can easily retrieve it. Even better, if your Macintosh suddenly fails, you can use your Time Machine backup to reinstall all your data and programs on to a new Macintosh. Time Machine makes it easy to backup files and transfer the contents of your entire Macintosh, programs and all, to another Macintosh.
Time Machine is simple to use and free with every Macintosh, so it's something everyone should do. The key is to get an external hard disk and make sure that external hard disk is at least the same size as the hard disk in your Macintosh. Preferably get an external hard disk that's larger than the hard disk in your Macintosh so that way you can store backups as far back in the past as possible. The moment Time Machine runs out of space on the external hard disk, it will start deleting the oldest backups so the bigger your external hard disk, the more older data you can save and retrieve if necessary.
Yet Time Machine isn't the only backup solution available. You can buy third-party backup programs that offer additional features that Time Machine may not offer. For most people, Time Machine should be fine but you may want to examine some of these third-party backup programs to see if they offer features you might need.
Still, the biggest flaw with backup solutions like Time Machine is that they rely on an external hard disk. If your house or office catches fire, floods, or gets destroyed by an earthquake or tornado, your external hard disk will likely get wrecked at the same time as your Macintosh. That means you'll still lose all your critical data despite backing it up.
That's why you also need an online backup solution as well. Online backup solutions will cost money but provide complete peace of mind since you can always retrieve your data over the Internet from another Macintosh. Unless the whole world gets destroyed at once, your online backups will always be safe for you to retrieve.
The drawback with online backup solutions is that they cost a monthly fee and there's the small chance of someone accessing your online backups. With an external hard disk, no one can access your data unless they physically break in to your home or office. With an online backup solution, any hacker in the world could theoretically access your data. The big question is why would a hacker want to?
For the most part, hackers will target big, lucrative targets like banks or corporations, not individuals. Given the risk of losing all your data to a disaster without an online backup solution, or the extremely low risk of losing your data to a hacker, it's probably a safe bet that the greatest threat to your data will be a physical disaster wrecking your Macintosh and external hard drive and not hackers breaking into your online backup data.
So the backup solution is simple. First, you need backups. Second, you need an external hard disk to backup your data. Third, you need an online backup solution for extremely critical data that you can't afford to lose. Not everyone may need online backups, but if you absolutely can't afford to lose your data, you need an online backup solution in addition to an external hard disk to backup your data.
Backing up data isn't a sexy, exciting part of using a computer, but it's a crucial one that nobody should ignore. Of course, most people do ignore the threat of losing data right up until they actually lose it.
To read more about backup solutions for the Macintosh, click here.