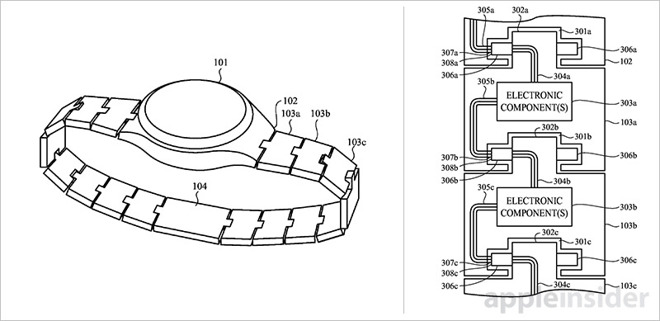 What it is: Apple recently patented links that form a watch band.
For people unsure why they might need an Apple Watch, the answer is simple: real-time health monitoring. If you're concerned about your health, tracking your physical activity and monitoring your health data can definitely help you lead a healthier life.
One problem with the Apple Watch is that it's fairly limited in size, which means there's only so many health sensors Apple can cram into the back of the Apple Watch to detect health data from pressing against your skin. Constantly offering updated versions of the Apple Watch will be one solution, but few people will want to buy a new Apple Watch every few years like people do with smartphones. The upgrade cycle of the Apple Watch will likely be years, mirroring the upgrade cycle of the iPad.
That's why Apple has patented links that connect together to form a smart band. The idea is that each link can offer a different feature such as a solar cell or battery to provide more power to the Apple Watch, or additional health sensors that the Apple Watch may lack. By adding additional links, you can extend the capabilities of an Apple Watch.
Each link shares a common power line and communication link. That means links containing batteries or solar cells can provide additional power to the Apple Watch while links containing additional health sensors can send that data to the Apple Watch. By letting you customize the features of the Apple Watch through additional links, Apple makes the Apple Watch easily upgradeable without forcing you to buy a brand new Apple Watch every few years.
Just by adding batteries or solar cells can extend the Apple Watch's battery life immensely. Now add additional health sensors to these links and you can wear specialized sensors for your particular health condition such as diabetes, epilepsy, or early stroke or heart attack detection. Obviously not everyone needs the same health sensors so it only makes sense to add the ones you need and ignore the ones you don't need.
This ability to choose the health sensors you want and need makes the Apple Watch the hub of storing data, which it can then transfer to your iPhone or iPad later if you wish. So instead of cramming more and more health sensors into the Apple Watch that many people may not want or need, smart links let you customize the Apple Watch for your particular needs.
Expect these smart links to arrive soon. It's simply the future of the Apple Watch.
To read more about Apple's patent of smart links for a wearable computer, click here.