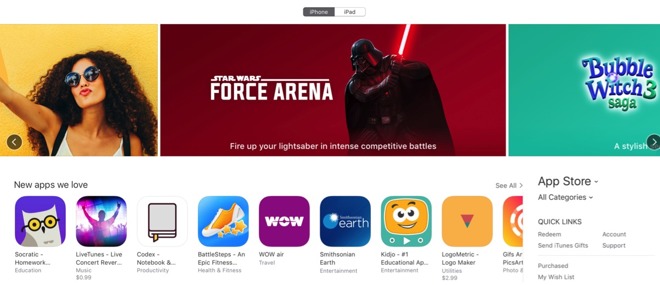 What it is: Besides selling hardware, Apple also provides services such as iCloud, iTunes, and the App Store.
Many people focus on the iPhone since that's how Apple makes the bulk of their income. Yet selling hardware is only a one-time profit generator. Once you ell someone an iPhone, they probably won't need another one for another year or two, maybe more.
The problem gets worse with the iPad. Many people still use their older generation iPads because they work perfectly well. The Apple Watch has fallen into that category as well since the first generation Apple Watch is little different from the second generation. What's the point of upgrading hardware often if there's little advantage in doing so?
That's the dilemma that Android manufacturers face because they sell smartphones and tablets, and that's the only way they can make money. What makes Apple different is that they also see services.
Once someone buys an iPhone or iPad, chances are good they'll also periodically buy apps from the App Store, music from iTunes, or ebooks from the iBookstore. In this way, Apple continues making money from older hardware, which gives them an incentive to keep older hardware updated on the latest operating system. In comparison, Android manufacturers have zero incentive to update their devices because that costs them money and generates zero revenue in return. That's why the best way to get an Android update is simply to buy a new Android device.
Because Apple makes money through services, they can afford to support older hardware. Although Apple would likely want everyone to update their iPhone and iPad every year, that's never going to happen. Instead Apple can generate revenue through its multiple services instead that Android manufacturers can't offer.
Just using iCloud alone provides a simple backup storage system along with letting you seamlessly work on data between multiple Apple devices. If you don't go over your allotted storage limit, iCloud is free, but many people constantly capture pictures and back them up on iCloud, which generates revenue for Apple once they start paying for extra storage.
Apple services are the key to the company's success. By not relying on hardware sales, Apple doesn't have to race every year to offer new devices with a laundry list of dubious features. Instead, they can focus on offering only those features that help tie users tighter into Apple's ecosystem so it will be less convenient to leave. Apple makes money with every iPhone and iPad sale and then makes additional, steady revenue through services.
Some people undoubtedly use more services than others, but that steady revenue stream is far better than zero revenue at all, which is what Android manufacturers face. As long as Apple continues making money through services, they don't need a huge market share. They can just earn massive profits from both hardware sales and services while every rival slowly goes bankrupt trying to sell hardware alone.
the moment Apple's services start floundering, that's the first sign that Apple itself is floundering. Don't look at hardware sales. Look at service revenue. That's a far more accurate long-term prediction of Apple's future profits.
To read more about Apple's services, click here.