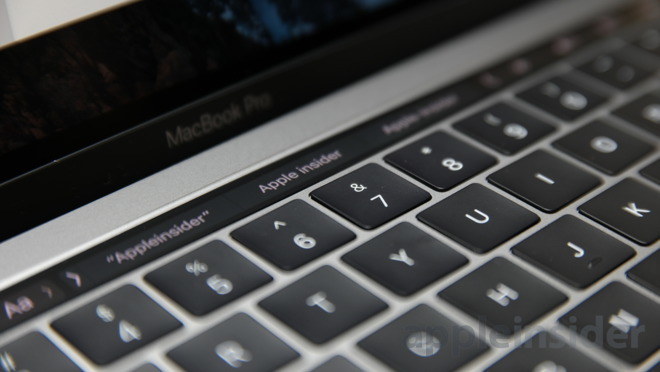 What it is: North Carolina has banned the Touch Bar from being turned on during bar examinations.
When test takers show up to take North Carolina's bar examination, they must turn the Touch Bar off on their MacBook Pros. The explanation for this is that it's possible to program the Touch Bar to display answers to the test questions. This fact immediately creates more questions. First, the fact that test examiners are worried that the Touch Bar could be programmed to display answers shows the flexibility of the Touch Bar compared to the row of function keys that largely sit unused on many computers.
Second, if test examiners are worried about people programming the Touch Bar to hide answers, why are they allowing laptops into tests in the first place? Although it's possible to program the Touch Bar to display answers, wouldn't it also be possible to write a program to display answers on the ordinary screen of a laptop as well?
What's to stop someone from simply accessing the Internet through a laptop and accessing answers that way as well? Why force people to turn off the Touch Bar when taking the bar examination in North Carolina but allow them to use a laptop of any kind in the first place?
While it's likely the Touch Bar could be used for cheating, it's also likely that any laptop could also be used for cheating as well along with smartphones or smart watches. The real solution might be to ban all forms of electronics while taking a test.
In the old days, schools debated the use of pocket calculators in the classroom. When programmable pocket calculators arrived, teachers worried that students could hide answers in the programmable features so they initially banned calculators altogether. When that later proved impractical, they allowed calculators in with tests.
Not knowing the circumstances surrounding the use of laptops in taking North Carolina's bar examination, it's impossible to say with certainty that banning the Touch Bar will keep people from cheating but allowing them to use laptops will not. However, it does seem odd to arbitrarily ban the Touch Bar while allowing the much larger screen of a laptop to be freely available. Couldn't a clever student simply hide answers in a macro created in a program like Microsoft Word, which could reveal an answer by simply pressing the right keystroke combination?
To pick on the Touch Bar seems a bit odd. As the Touch Bar becomes more common, this ban will likely be removed. Still, this highlights both the flexibility of the Touch Bar and the curious logic behind test examiners in trying to prevent cheating but allowing laptops to be used as long as they don't have the Touch Bar turned on.
As always, technology often races ahead of rules and regulations. To read more about North Carolina's ban of the Touch Bar during bar examinations, click here.