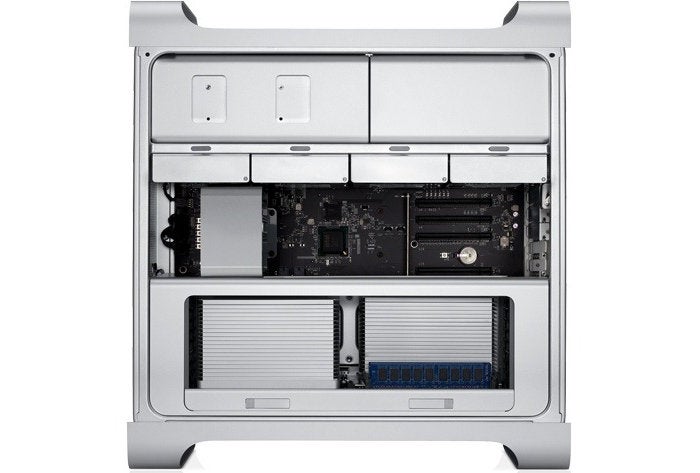 What it is: Apple has neglected their Macintosh lineup for so long that many are wondering if the company has lost interest in the Macintosh.
A recent MacWorld article makes a great point about the current state of the desktop Macintosh. While Apple keeps pursuing thinness, lightness, and battery life for their laptops, none of that matters as much for desktop computers. What Apple needs to do is focus on what people really want out of a desktop computer, and it's usually not a device you cannot upgrade.
On a laptop, RAM is soldered in place, which means you can never upgrade the RAM later. To a certain point, this makes sense since soldered in RAM takes less room than RAM slots that need room so someone can open a compartment and plug a new RAM chip in. Yet overall, this makes little sense on a desktop computer. While laptop users want mobility, desktop users want power.
A desktop Macintosh should be far more powerful than a laptop because it has room to expand its RAM or use less energy efficient processors that may run faster. Since many desktop users also want graphics, desktop models should come with separate graphics cards, the more powerful the better.
What desktop users really want is power and upgradability. Power lets them get work done while upgradeability means they can easily expand their computer's capabilities without buying a new one. That essentially means more power again.
Apple seems to have lost the purpose of the desktop computer. It's nice to make computers look stylish, but not at the sacrifice of expandability or power. Desktop computers should look nice and be powerful. Apple's Cube desktop looked nice but flopped because it wasn't expandable. when you examine Apple's current desktop lineup, it appears they're making the same mistake.
The iMac look great but its RAM can't be expanded. The Mac Pro looks great, but requires a tangle of cables and external devices to expand its capabilities, which ultimately mars the aesthetic appeal of the computer's design. When the Mac Pro came out, it would have been the seventh fastest supercomputer in the world several years ago. That's what people want, a supercomputer on their desk.
Beyond the power and expandability, the desktop Macintosh needs to promote content creation. To write iOS, tvOS, and watchOS apps, you have to use a Macintosh. That's the purpose of a Macintosh. To create interactive ebooks for the iBookstore, you have to use the free iBooks Author program on a Macintosh. The Macintosh should excel at content creation to support Apple's other products.
Perhaps 2017 will be the year Apple surprises us with innovation for the Macintosh. They've already hinted at innovation with he Touch Bar for the laptop models, but the Touch Bar needs to come to external keyboards as well for the iMac and Mac Pro along with the long neglected Mac mini. By making the Touch Bar a standard feature on all Macintosh models, Apple can further promote the Touch Bar as the innovative input device it truly is.
Now Apple just needs to keep focusing on improving the macintosh as quickly as they improve the iPhone. When Apple can do that, then everyone can relax that Apple may not have lost interest in the macintosh after all.
To read more about the problems with Apple neglecting the Macintosh, click here.