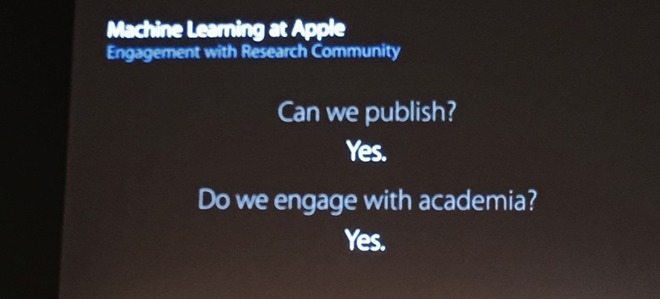 What it is: For the longest time, Apple's AI (artificial intelligence) researchers were bound by a secrecy agreement to keep their research hidden from others.
For years, Apple kept their AI research hidden from conferences and other AI researchers. Now Apple is allowing their AI researchers to speak publicly about their activities. This common sense change make sense for two reasons.
First, AI researchers learn from each other and enjoy sharing ideas. Putting a gag order on Apple's AI researchers meant cutting them off from the overall AI community. After all, if you're not willing to share anything, few people will want to share anything with you. That meant Apple's AI researchers were often isolated from commenting on the work of others or their own projects.
By keeping Apple's AI researchers isolated, Apple also made the company a far less attractive place to work. That meant recruiting top AI talent suddenly became much harder for no good reason.
Second, AI keeps advancing so rapidly that it benefits everyone to share their knowledge. By refusing to share their information, Apple made it difficult for the company to work with others in mutually beneficial projects. The end result was that Apple risked falling further and further behind while getting more and more isolated from the AI community in general.
AI is crucial for natural language processing (Siri) along with self-driving cars and even something as mundane as guessing which songs or recording artists you might like based on your current music library (iTunes). AI will only continue to grow that no single company alone can master by itself.
Will this mean other companies might steal ideas from Apple? Yes, because they're already doing it anyway. Does this mean Apple can share ideas with others in mutually beneficial ways? Yes, and that's the missing ingredient that Apple's previous ban on AI research prevented.
The world of computers is moving towards AI and Apple can't afford to go it alone any longer. Google, FaceBook, Microsoft, and others are already pursuing AI research so Apple needs to keep up, and there's no better way of keeping up than by sharing ideas. companies will still keep their proprietary technology but working with others will still benefit everyone.
Will Apple now have an easier time attracting AI talent? Yes. Will Apple's AI efforts move faster than by working in isolation? Probably. Will there be any drawbacks to sharing information with others? Not really because Apple can still keep their most sensitive information secret if they wish.
By opening up to the rest of the AI community, Apple is simply making sure they keep up with their competitors. Apple has little to lose by embracing the AI community, but they risk losing a lot ion they continued to work alone.
Apple changed their policies because they simply made sense. The strange thing is who ever though their previous ban on sharing AI research ever made sense in the first place?
To read more about Apple removing their previous ban on sharing AI information, click here.