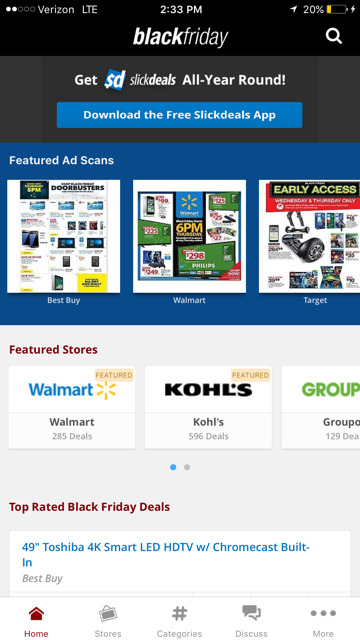 What it is: Black Friday is a day when retailers offer special discounts on various products.
The best time to buy most electronic gadgets is on Black Friday when retailers offer steep discounts that they rarely offer ever again. If you've been holding out for a new Macintosh, iPad, or other computing device, sift through the various Black Friday offers to find the best deal.
Of course, being bombarded by so many Black Friday specials may get overwhelming so you might prefer to download an iOS app to help you find the best Black Friday deals instead. When comparing both retail and online stores, take tax into account. Some retailers are eliminating sales tax for customers in certain states while others simply offer discounts on the retail price and base the sales tax on that discounted price. That means if you don't do the math, you could buy something that you could have gotten much cheaper somewhere else.
Beyond Black Friday, another great time to buy electronic products is after Christmas. That's when many people return products and then stores sell brand new devices as refurbished products instead. Such refurbished products have the same warranty as new models but come with a much steeper discount than typical Black Friday discounts might offer.
The bottom line is that Black Friday is just one time when you can buy products at a discount. With the right Black Friday app to help you find the best deals, you can save money and get the product you want.
To read a list of iOS apps that can help you find the best Black Friday deals, click here.