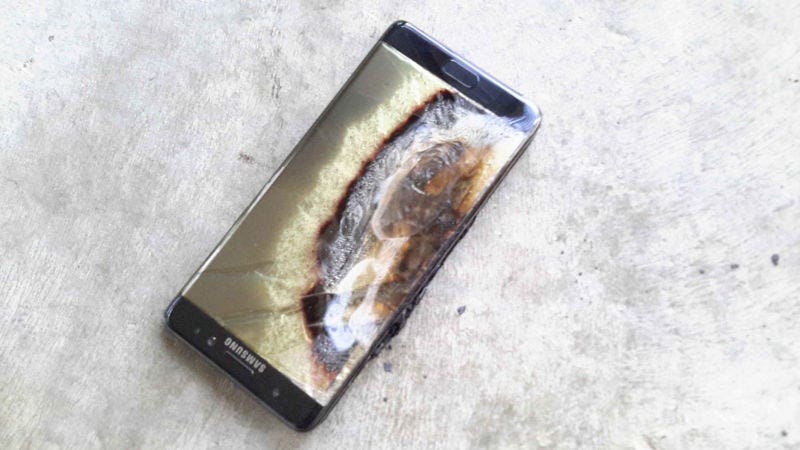 What it is: The Galaxy Note 7 was Samsung's attempt to beat the iPhone 7.
When Samsung heard rumors that the iPhone 7 wouldn't introduce any revolutionary features, they thought they saw an opportunity to upstage the iPhone 7 by rushing the Galaxy Note 7 into production. That was their big mistake right there. When you're simply focused on a rival instead of trying to deliver the best product possible, you've already lost your goal.
The purpose of business isn't to wipe out rivals. The purpose of business is to please your customers. When you constantly and consistently please your customers, they'll stay loyal to you and often convince others to buy from you. You don't even have to worry about rivals because if you're keeping your customer base happy and attracting new customers, whatever your rivals do doesn't matter one bit.
By focusing on Apple, Samsung simply rushed the Galaxy Note 7 into production too soon. At first they blamed the batteries, but then when replacement units also started burning up, Samsung realized the real flaw was the design of the Galaxy Note 7 itself. Apparently many units were made where the design presses the battery contacts together, causing them to catch on fire and explode. So the problem isn't just the battery but the design of the Galaxy Note 7 itself.
What Samsung should have done is look at how to offer the best smartphone possible regardless of what the iPhone 7 might offer. Even if releasing the Galaxy Note 7 might have taken more time, they should have waited until the product was ready instead of rushing it. Now because of their haste, they have to issue a second recall of all Galaxy Note 7 products and stop production and sales altogether.
So what did Samsung accomplish? They're going to lose money through two recalls and stopping production of a smartphone model altogether. They've also lost any advantage they might have thought they could earn by releasing the Galaxy Note 7 ahead of the iPhone 7. They've suffered a tarnished reputation, and all because they focused on Apple instead of their customers.
The formula for business is simple. Keep your existing customers happy and keep improving your product so it attracts new customers. Then keep those customers happy too.
There are plenty of people who don't want an iPhone for whatever reason. Those are the people Samsung could attract and keep. They don't need to compete against the iPhone because people who want iPhones don't want Samsung phones and people who don't want an iPhone are more likely to buy an Android phone such as a Samsung phone.
Samsung's real competition are other Android manufacturers, not Apple. But Samsung's executives can't see that so while the company suffers, you can be certain the executives won't. The Galaxy Note 7 fiasco shows what happens when you focus on beating Apple for no reason. The sad part is that you can expect to see companies make this same mistake over and over again until they learn that their real competition is simply themselves.
To read more about the Galaxy Note 7 recall, click here.