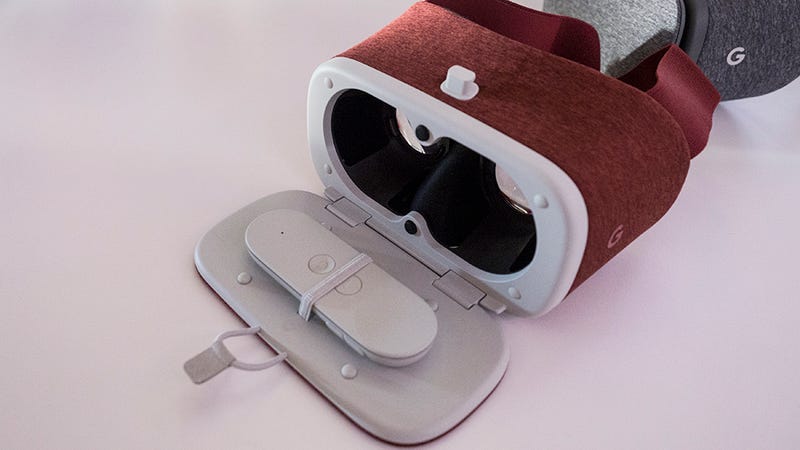 What it is: Google recently announced a virtual reality headset called Daydream.
At a big media event, Google announced several products including a new virtual reality headset called Daydream. Unlike other virtual reality headsets, Daydream requires slipping a smartphone into the Daydream headset to use the smartphone screen for viewing virtual reality. While this lowers the cost from dedicated virtual reality headsets, it's still a flawed idea.
The advantage is that you can use your existing smartphone with Daydream, making Daydream less expensive since it relies on the display and processing power of your smartphone. Although Daydream is less expensive than dedicated virtual reality headsets, it still shares the major drawback in that it requires you to wear something strapped across your face.
If you want to use Daydream on a regular basis, you'll need to carry it with you at all times. Then insert your smartphone into Daydream and wrap the whole thing around your face. When you're done, you have to take your smartphone out and carry Daydream around.
With augmented reality, you can simply point your smartphone or tablet at something and view something virtual such as seeing a cartoon monster while playing Pokemon GO. When you're done with augmented reality, you put your smartphone or tablet away. Augmented reality doesn't require you to carry anything more with you than the smartphone or tablet you're already carrying. Virtual reality requires that you carry something extra and then be forced to lug it around when you're not using it.
So whatever the technical advantages virtual reality offers, it fails tremendously on the convenience aspect. Virtual reality headsets are simply too clumsy to use regularly, often, and outdoors because you must carry and wear an extra item that you wouldn't normally carry with you. Augmented reality has none of those major drawbacks, which makes augmented reality far easier for more people to use regularly.
By continuing to pursue virtual reality headsets, Google demonstrates that they're enamored of the technology and completely ignoring the practical aspects of using that technology. Of course, Google isn't alone. Microsoft is pursuing their HoloLens and Facebook is pursuing their own virtual reality headset with Oculus.
The bottom line is that lugging around and wearing a virtual reality headset will never be convenient. That restricts virtual reality to limited applications. Think of the old days when telephones could only exist with a cord that you could plug in. That physical limitation immediately kept telephones from traveling with you wherever you went, which is what smartphones can offer.
Virtual reality headsets are no different. Just like old fashion telephones needed to be plugged in, virtual reality headsets are far more likely to be used inside in limited areas. Even walking around an office with a virtual reality headset strapped to your face won't be as comfortable as simply walking around an office without a virtual reality headset wrapped around your face.
Virtual reality has its purpose and potential, but its very nature restricts it to a narrow niche of uses where the user needs to be in one area and can take the time to strap on a virtual reality headset and leave it there.
Google's Daydream is a decent product. It's just not a game-changer like augmented reality will be. When Apple releases their augmented reality features later next year, you can expect Daydream to quietly disappear as a niche product that never found a wider audience.
To read more about Google's Daydream, click here.