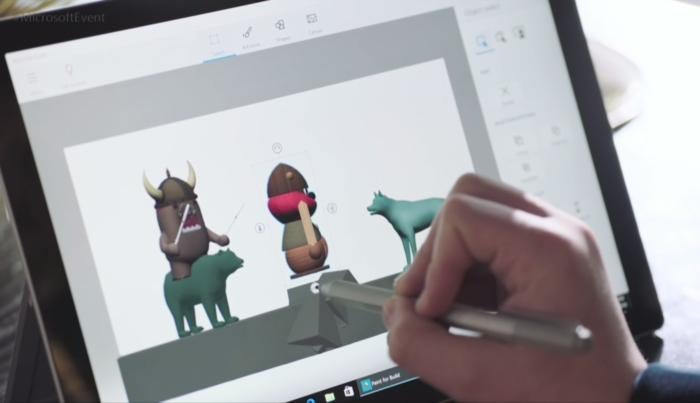 What it is: Microsoft announced Windows 10 Creator's Update coming in Spring 2017.
Microsoft held an event announcing some of the latest features of Windows 10 Creator's Update coming next year. Perhaps the most important announcement was Microsoft's push for 3D. First, Microsoft demonstrated how the Paint program will be updated to allow 3D manipulation. To get 3D images, you can now access Microsoft's new community of shared 3D images.
Yet the most crucial announcement was the ability to scan 3D images. Microsoft quickly glossed over the details but demonstrated a Hewlett-Packard phone scanning a sand castle and turning that object into a 3D image. While the 3D scanning app was demonstrated on a Windows 10 Mobile device, there were no details on whether this 3D scanning app was going to be free or cost money, or whether it would run on iOS, Android, and Windows 10 Mobile. Ideally it should run on Android and iOS because those are the two most common mobile operating systems, but details are lacking.
This ability to scan real objects and convert them into 3D objects that you can manipulate in Paint 3D is crucial for one reason that Microsoft totally omitted: 3D printing. With easy 3D scanning and easy 3D manipulation, you should now be able to turn real world objects into 3D printed objects. So the real benefit of 3D scanning and 3D manipulation is the ability to make 3D printing more versatile.
In the past, you needed CAD skills to create 3D objects to print. Now you'll be able to 3D scan anything in the real world (including your dog or car) and then print that object on a 3D printer. Why Microsoft omitted this revolutionary feature doesn't make sense since that's where all of their 3D efforts are heading anyway. Even earlier versions of Windows 10 included a 3D printing program so it's obvious this could tie in with Paint 3D and the 3D scanning app.
To further promote their 3D efforts, Microsoft highlighted virtual reality headsets from third-party partners, starting at $299. Yet what Microsoft failed to demonstrate was a compelling business use for virtual reality. They demonstrated taking a chair image off a website and viewing it in 3D using HoloLens so you could see how an object would look in your actual home.
Technically, that's interesting. Realistically, is that a compelling reason to buy a $299 virtual reality headset?
Ideally, Microsoft should show how virtual reality can solve a pressing problem that's currently too difficult or impossible to do with current technology. Shopping for furniture is a trivial example and one not likely to motivate people to buy a $299 virtual reality headset that they'll need to strap on their face to get this trivial feature.
The future of 3D isn't just virtual reality but 3D printing as well, which Microsoft should have demonstrated. The latest 3D features help push computing towards the future, but Microsoft needs a clarify their vision for 3D for solving actual problems rather than simply demonstrating technological marvels. If you watched Microsoft's event on October 26, just listen to the applause from the audience to gauge how excited people really are about certain features. The intensity and duration of the applause will let you know what other people think is actually important and what's simply trivial.
To read more about Microsoft's 3D vision for Windows 10 Creator's Update, click here.