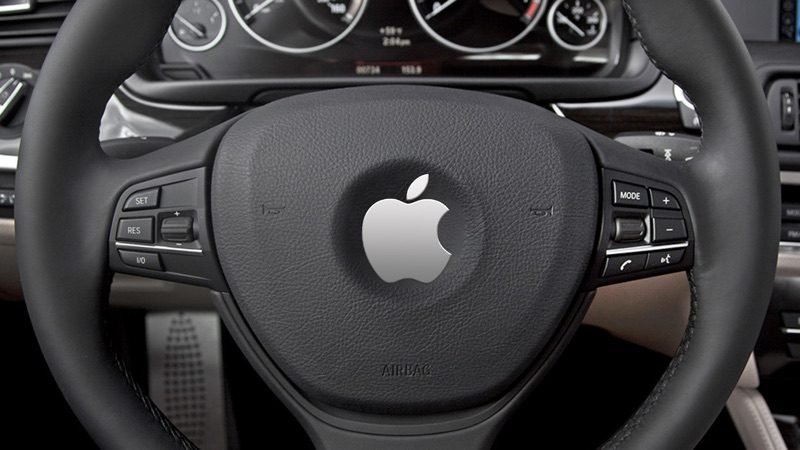 What it is: The Apple Car is Apple's long-term project to build a vehicle. What features that vehicle will offer remains unknown.
After building a secretive testing facility and hiring numerous automative engineers, it's no secret that the Apple Car project, known as Project Titan, is working on some sort of vehicle. The most obvious feature will likely be an engine that doesn't rely on gasoline or diesel, which points to an electric car or possibly a hydrogen fuel cell powered car.
Another feature is CarPlay, Apple's current software in-dash entertainment system modeled after iOS and the iPhone. Instead of having a complicated series of buttons and knows, CarPlay offers the simpler touch screen and voice-activated Siri assistant. That way you can drive, give voice commands to Siri and CarPlay, and keep your eyes on the road.
One possible feature might be self-driving capabilities. It's no longer science fiction since Google, General Motors, and other companies have already tested this feature. Self-driving technology may not be perfect, but it's farther along than most people would have expected.
So the rumored features of the Apple Car has always been non-gasoline engines, a computer dashboard, and self-driving capabilities. One or more of those rumored features are likely true. The real question is when will this Apple Car arrive?
Apple recently laid off dozens of Project Titan workers, which puts the Apple Car in doubt. Most likely, even Apple doesn't have a clear vision for the future, let alone what the Apple Car will offer. Instead, Apple is likely working on various car-related technologies to see which ones are most promising and feasible. Like many research projects, expect a large majority of the research to never appear in a consumer product.
What the Apple Car likely isn't is a gasoline-powered car to compete against General Motors, Honda, Ford, and Toyota. There's no point in coming out with another me-too product unless it offers something radical new feature. Tesla already offers electric cars with self-driving features, so does Apple want to compete with Tesla, especially seeing how much trouble Tesla faces in competing against the traditional car makers?
Manufacturing cars is a huge project and much different than manufacturing consumer electronic devices. Does Apple want to build factories to make cars or hire someone else to make them? This seems imposing, which is something even Tesla is struggling to do to meet demand of their vehicles.
A far safer approach might be for Apple to develop the underlying technology behind tomorrow's cars and then let other companies license that technology such as CarPlay. Right now, Apple doesn't make a CarPlay entertainment system that auto makers can shove in their dashboards. Instead, other companies use CarPlay as a feature in their cars.
That type of arrangement makes much more sense if Apple we're building a car. However, Apple made a $1 billion dollar investment in China's largest ride sharing service called Didi Chuxing. As cars get more expensive to buy and maintain, and less convenient to drive and park, the world simply can't afford to give everyone a private vehicle of their own. Instead, ride-sharing and car-sharing services are becoming increasingly popular. When the cost of owning a car far exceeds the cost of using a car or ride-sharing service on a daily basis, then few people will want to own their own cars, much like few people want to own their own airplanes.
Rathe than owning an airplane and paying for maintenance and storage, most people prefer to ride in a plane. Richer folks can afford private planes but most of us simply hop on a commercial airliner to get from one place to another. The airline model of travel is likely the future model for cars as well.
So the Apple Car project likely isn't set in stone and is shifting based on what Apple's finding is feasible for the short-term future. The latest layoffs from Project Titan doesn't mean Apple is abandoning Project Titan but that even Apple couldn't predict what would work and what would be useful.
Don't expect an Apple Car any time soon. Do expect minor breakthroughs to keep popping up and working together much like iOS evolved from an iPhone operating system to an iPad tablet operating system, to Apple Pay, HealthKit, HomeKit, and a host of other initiatives. The future of the Apple Car isn't a product as much as it's the underlying technology to radically transform the transportation business in general.
To read more about the latest trouble from Project Titan, click here.