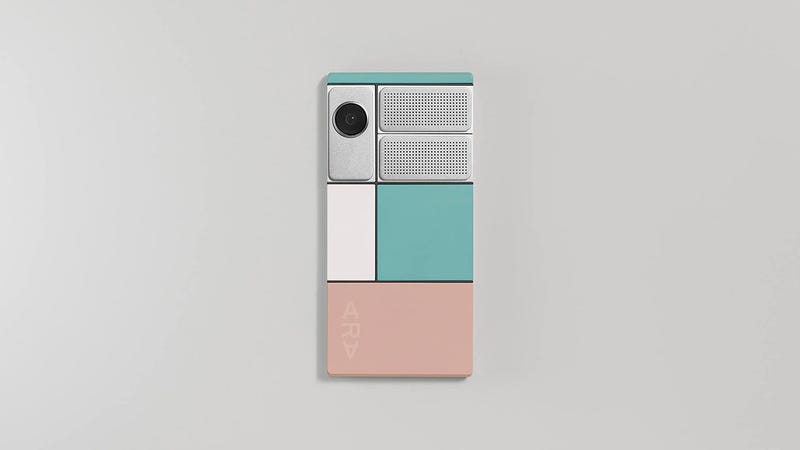 What it is: Project Ara was Google's modular phone where people could update individual components by plugging in a different module.
In any market, there's always a minority of people who love technology for the sake of technology. Then there's the much larger market of people who only want to use technology to get their tasks done. Even though the tech-savvy crowd is much smaller, they have much more influence on the direction of technology because they design and create it, and they're far more vocal in promoting what they want and do not want.
That's why technology has always been far too complicated for the average person. It's not that computers are inherently difficult to learn, but that tech-savvy people make technology harder to learn. There's little reason for today's numeric keypad to double up as a cursor keypad when most keyboards have a separate cursor keypad, yet that obsolete and poor design from IBM still lingers today.
There's little reason for function keys at the top row of the keyboard any more, yet function keys still remain and have largely been assigned hardware controls unctions like volume or screen brightness. There's no reason to refer to hard drives as the C: drive any more, yet that's been around since the early days of MS-DOS.
Tech-savvy people love technology sot hey want different ways to fiddle with it and assume if you don't understand the quirks of technology, then you just need more training rather than make products easier to use in the first place. Yet the vast majority of people just want a product that works with little fuss, and that's why Google's Project Ara died.
The basic idea behind Project Ara was to let you swap out modules in your phone so you could upgrade only the parts you want such as the camera, storage capacity, or speakers. This would mean making and stocking multiple components that could be combined in a variety of different ways. Because of so many combinations, this also meant that software developer would have to test all possible combinations to make sure the operating system, let alone individual apps, worked properly on all combinations of modules.
The more modules offered, the more flexibility for customers, but the more testing needed for developers until the number of modules would created an exponential nightmare of complexity for developers, making the whole project unwieldy. Even worse, how many people want to replace a module of their smartphone when it's easier and cheaper just to buy a brand new smartphone?
Few people replace the individual components of their car like the engine, body, dashboard, or seats even though that's technically feasible. Car fanatics might do that, but the average person will not.
So Project Ara was geared towards appealing to the small minority of tech-savvy users instead of the mass market that wanted simpler smartphones, not more complexity. Project Ara failed because it appealed to the small tech-savvy crowd instead of the larger mass public.
Ask why most people buy an Android smartphone and it's usually because of cost, not because they can modify the source code of Android. Project Ara failed before it could begin because it tried to offer a product most people didn't want.
Blackberry tried selling their Blackberry Classic smartphones, which would be like Dell selling 80286 PCs. While some people wanted the older design of the Blackberry Classic, far more people do not. For the same reason, some people would love to have an ancient 80286 PC to fiddle with but most people will not.
The key lesson is that companies that make technology simpler will reach more people than companies that make technology harder and more complicated. That's why so many people use a Macintosh instead of a Windows PC because they feel a Macintosh is easier to use. The cost of a Macintosh may be higher, but many people feel the higher price is worth it to use a computer that's less frustrating to use.
For the same reason, many people buy an iPhone rather than an Android device because they prefer the simplicity of an iPhone over the messier world of Android. People focused on cost gravitate towards Windows PCs and Android. People focused on simplicity gravitate towards Macintosh computers and iPhones regardless of the cost.
Complexity has its own cost. The more frustrating it is to do something, the less productive you will be. In the long run, this means you're paying more over time in lost productivity than you'll save from the initial lower cost. When you do the math, it's easy to see that cheaper items aren't always the best if they cause more headaches and trouble in the future.
Project Ara was simply a misguided attempt to appeal to the tech-savvy crowd while ignoring the larger market of people who just want something that works. The more complexity you add, the less certain people will be in embracing that item. Too much complexity is never good. When complexity offers massive advantages, then it no longer becomes complicated because people can see the benefits. If you're just offering people choice and complexity with few obvious benefits, you're doomed.
Just ask Google and Project Ara why developing complexity in exchange for flexibility didn't work out in the smartphone market where most people just want something that works.
To read more about Project Ara, click here.