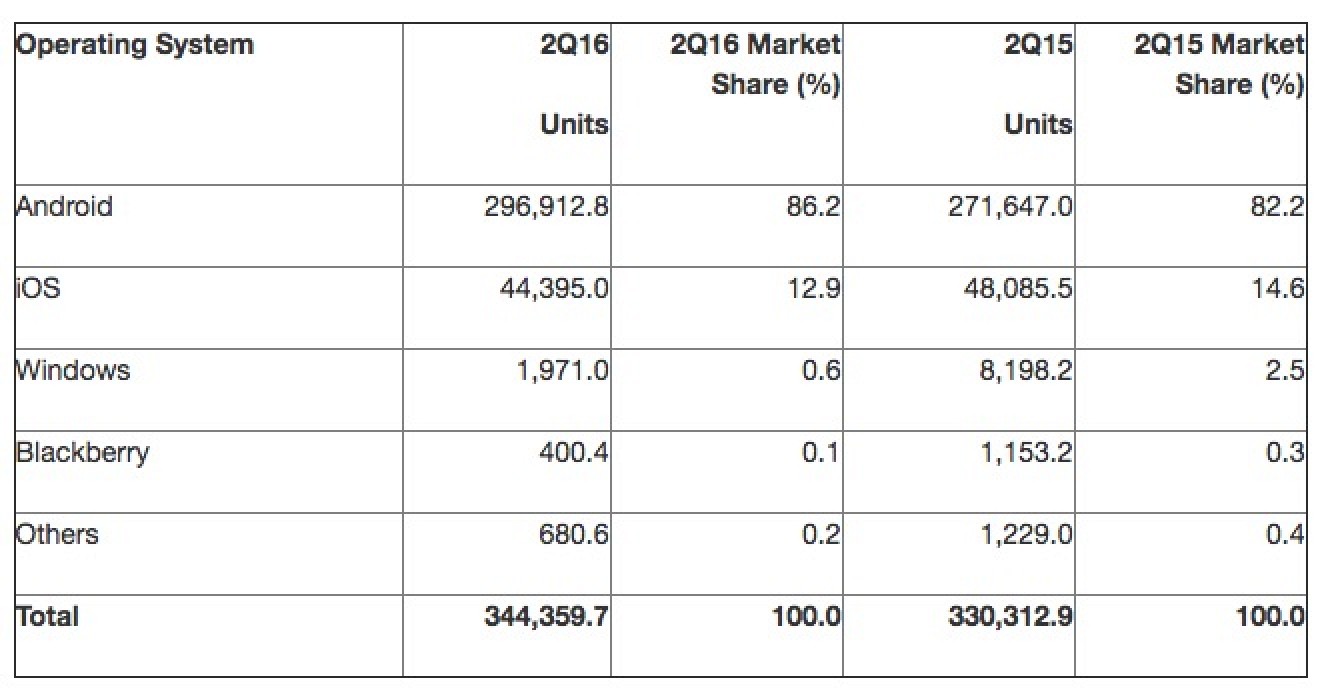 What it is: Combined, Android and iOS represent 99% of all smartphone sales.
Before Apple introduced the iPhone, the dominant smartphone was Blackberry. Blackberry OS was considered the smartphone standard that even Google modeled Android after Blackberry and planned to create Android as a Blackberry clone. Then Apple introduced the iPhone and Google quickly revised Android to look more like an iPhone clone.
As the iPhone and Android devices grew in popularity, sales of Blackberry smartphones sank. At one time, Blackberry held 40% of the smartphone market. Today, they hold less than 0.1% of the smartphone market and their sales continue to drop.
Microsoft's Windows Mobile once held roughly 30% of the smartphone market. When Microsoft realized Windows Mobile couldn't compete against Android and iOS, Microsoft created a brand new operating system called Windows Phone 7. Sales were slow but promising. Then Microsoft released Windows Phone 8, which wasn't compatible with Windows Phone 7 devices. That meant anyone who had a Windows Phone 7 smartphone had to buy a new smartphone just to upgrade to Windows Phone 8.
Then Microsoft revised their phone operating system again and created Windows 10 Mobile, which once again wasn't compatible with Windows Phone 8. Because Microsoft essentially restarted their phone operating system three times, they kept losing what few customers they had. Now Microsoft holds 0.6% of the smartphone market and like Blackberry, their future will likely get worse.
That means the dominate smartphone platforms are Android and iOS. Both look and work roughly the same, but their ecosystem has also blocked any potential rivals. If Microsoft couldn't break into the smartphone market with their massive advertising campaigns, what chance does any rival have in cracking the smartphone market?
Samsung pins its hopes on Tizen, an open source platform but there's little reason for anyone to switch to Tizen and even less of a reason for developers to make apps for Tizen. Since so few people use Tizen, few developers want to spend time writing apps for it. With so few apps for Tizen, few people want Tizen.
Android and iOS look like they'll hold their dominant position on the smartphone market like Windows has held its dominant position on the PC market. In the tablet market, Android may still be popular, but mostly for inexpensive tablets. For enterprise use, more people rely on iOS on the iPad.
Android and iOS are here to stay. If you want software features like Apple Pay and Android Pay, you can't get that on Windows 10 Mobile or Tizen. If you want integration with car systems like CarPlay, you won't get that from Windows 10 Mobile or Tizen. If you just want a popular app, you won't get that on Windows 10 Mobile or Tizen.
Once an operating system earns a dominant position in the market, it will take a long time to dislodge that leader. Blackberry lost their lead because the iPhone and Android were so far advanced in comparison. Even though Linux is free, it still never seriously challenged Windows in the desktop market, but you can already see that fewer people are using Windows PCs because they rely more on their smartphones instead.
If you want to stick with the future, stick with Android and iOS until something drastically better comes along. If a minor improvement arrives like Windows 10 Mobile or Tizen, there's no reason for anyone to switch just like there's still few reasons for people to abandon Windows to switch to Linux or macOS. Some people are abandoning Windows but most people are not. That's because Linux and macOS don't offer a drastic difference over Windows even if they offer lots of minor advantages like simplicity, stability, and (in the case of Linux) free cost and access to source code.
Leaders in any market only fall when something much better comes along. Windows is sinking because of smartphones, not because of Linux or the Macintosh. Android and iOS will also fall when something much better comes along. Chances are good when that happens, it won't look like a clone of iOS or Android.
To read more about the dominant market share of Android and iOS, click here.