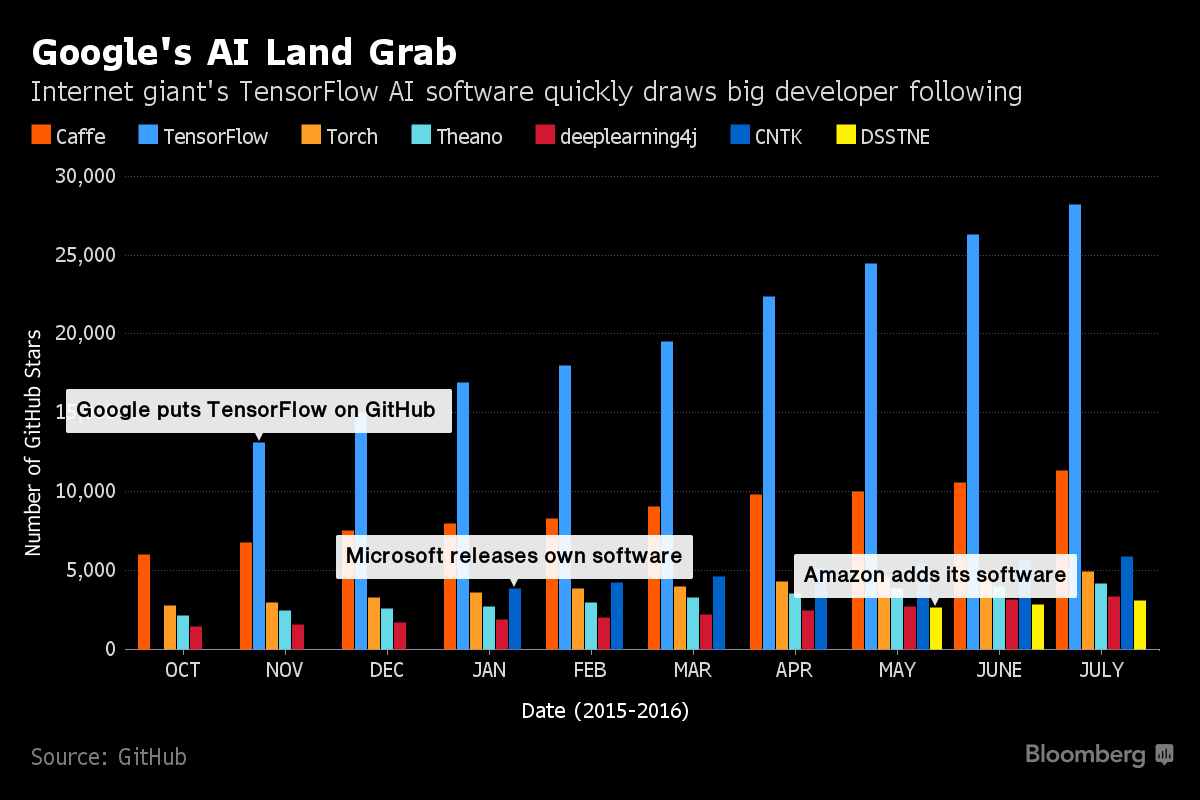 What it is: Google has open sourced TensorFlow, an artificial intelligence framework.
Open source is slowly taking over the world. Although Linux still hasn't conquered the desktop, Linux has taken over servers. In the mobile market, Android dominates. Now Google is starting to take over the artificial intelligence market by releasing their artificial intelligence framework that they use internally, called TensorFlow. The goal is to get more people using TensorFlow to create machine learning and artificial intelligence applications.
Of course if more people rely on TensorFlow, that means Google can have more influence over the direction of artificial intelligence. That means Google could dominate the world of cloud computing as more companies rely on cloud computing for artificial intelligent systems such as Siri and Cortana that can't run on a single computer.
If Google's TensorFlow becomes the dominant AI platform, that means Google by default becomes the dominant player in AI and cloud computing, which is something other companies are wary about. Think of all those companies that use Android. They're all desperately trying to sell Android smartphones and tablets while Google makes a profit and they often don't. How can other Android manufacturers compete against Google if they're dependent on Android? That's why Samsung is looking at Tizen and other companies are looking at alternative operating systems as well.
That's the same fear companies have with relying on Google for artificial intelligence and machine learning. If companies become dependent on Google, they'll risk paying for that dependence by propping up Google at their own expense. That's why other companies are releasing similar machine learning frameworks.
Artificial intelligence and machine learning are here to stay, and they typically rely on cloud computing so promoting TensorFlow as open source is Google's indirect way of dominating the cloud computing market. There's nothing wrong with TensorFlow but if you're wary of letting a single company dominate the cloud computing market like Google already does in the search market, you might want to look at alternatives.
Whether you look at alternatives or not, the growing number of open source artificial intelligence frameworks means that AI will soon become part of our everyday life, embedded in products that just work easier without us even being aware that AI is behind the whole process.
Think of spam filters that filter your e-mail behind the scenes. You may never be aware that a machine learning spam filter is working invisibly to keep your inbox free of spam, but that's exactly what's happening for many people. The best AI often doesn't make itself noticeable at all.
If you're just a user, you probably won't even notice when you're using AI or not, such as when you're using Siri. If you're a developer, you can now enhance your programs by adding machine learning techniques using various open source frameworks. Just be careful which open source framework you rely on because that could make you dependent on that company in ways you may not want.
To read more about Google's open source TensorFlow for machine learning, click here.