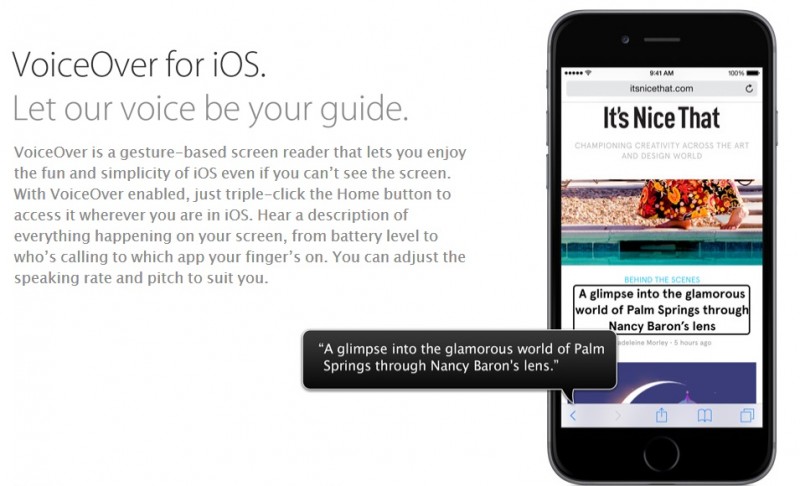 What it is: Apple designs its products to be accessible to everyone without add-ons.
Jordyn Castor has been blind since birth. When she received an iPad for her 17th birthday, she was amazed that she could use the iPad without the need for expensive add-ons or accessories, which is common with other types of devices such as PCs. Now Castor works for Apple, specializing in making sure Apple products are accessible to everyone.
Accessibility is important not only for making devices useful for blind, deaf, and physically limited people, but because such accessibility also means devices are easier to use for people without physical limitations as well. If you can use an iPad while blind, chances are good you can use an iPad easily using sight as well.
Compare this with the nightmare user interface of other products. In Microsoft Word, you can double-click on a tab displayed on the ruler to open the Tab dialog box. However if the mouse pointer isn't exactly on a tab, then double-clicking simply opens the Page Setup dialog box.
Getting the mouse pointer positioned exactly right is tough enough for sighted people to do, let alone blind people. The pickiness of the mouse pointer location is one reason why Microsoft Word and countless other programs are so difficult to use.
By designing interfaces for accessibility from the start, Apple insures that their products will be easy to use for both physically limited users and users without physical limitations. This makes products easier to use for everyone, and that's the importance of designing for accessibility.
Trying to use the convoluted interface of Windows 8 is hard enough without physical limitations. How would you like to use it with limited vision?
All user interfaces should focus on making products easy to use for everyone and designing for accessibility is the place to start. While many users may not need the accessibility features that a blind, deaf, or physically limited person might need, the fact that those features exist at all can make any product easier to use whether you need those features or not.
Accessibility is simply good user interface design. Apple strives to offer full accessibility at all times and their interfaces reflect this. Other companies don't always do this and their user interfaces reveal the problems for everyone to see.
To read more about the blind engineer working at Apple to insure products are accessible, click here.