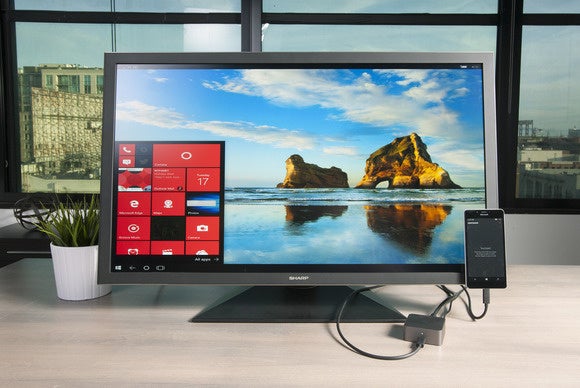 What it is: Windows Continuum is Microsoft's feature on Windows 10 Mobile that allows a smartphone to work like a PC when connected to a monitor, keyboard, and mouse.
One feature that Microsoft has touted as an advantage of Windows 10 Mobile is something called Windows Continuum. Basically the idea is that if your smartphone runs Windows 10, you can plug it in and use it like a PC at a desk or take it on the road with you and use it like a smartphone. The theory is that by adapting to whatever you need, Windows Continuum lets you take your data and programs where4ver you go and use them wherever you need it.
In theory that sounds great. In practice, there are still problems. Beyond the technical problems of making a smartphone work like a smartphone one moment and a PC the next, the main problem is that the software you need also needs to adapt to two different uses. Running a desktop publishing program or computer-aided design program like Quark XPress or AutoCAD may be fine on a large monitor, but there's little reason to ever use the exact same program on the smaller screen of a smartphone.
While you could load a large program like Quark XPress or AutoCAD on a smartphone so you could use it as a PC when you're at a desk, the programs will gobble up huge amounts of space for no purpose while you're using it as a smartphone. The idea of having one device that can do everything is intriguing, but it's as intriguing as having one vehicle that can work as a car one moment and a boat the next. No matter what, there will be compromises.
A car that can act as a boat is neither optimized as a car nor a boat. It may fill a specialized niche but it will never be a mainstream product, and that's the biggest problem with Windows Continuum.
Some people need a car that turns into a boat but most do not. Likewise, some people want a smartphone that can act like a PC but most do not. It's often far easier to carry a separate laptop and a smartphone rather than use a single device as both a smartphone and a PC.
PC World writer Ian Paul tried using Windows Continuum as his sole computing device and overall found the experience workable with minor annoyances. In the end, he decided that lugging around a dedicated laptop would give him a better user experience for a PC than relying on Windows Continuum.
The main reason why people have adopted smartphones so quickly was because they were easier to use and easier to carry than a laptop. With so many advantages, people had no reason to avoid smartphones and stick with PCs.
When you look at Windows Continuum, you see few clear advantages and minor disadvantages. The trouble is that the few clear advantages aren't favorable enough to outweigh the handful of minor disadvantages, and the overall user experience of a smartphone as a PC is still less than using a dedicated laptop instead. The end result is that no matter how technically marvelous Windows Continuum might be, it must still offer a compelling advantage over a dedicated laptop. Until Windows Continuum can do that, it will appeal to a niche market and almost no one else.
Windows Continuum is an example of a technological goal achieved that still winds up missing the target anyway because technology must solve people problems or else there's little need for it. The Apple II made personal computers accessible to the masses by offering a pre-built computer compared to the hobbyist kits people previously had to put together themselves. The Macintosh offered a graphical user interface that made using a computer easier than typing and memorizing commands. The iPhone made smartphones easier and more powerful to use. What does Windows Continuum do that people couldn't do previously?
Beyond eliminating the need to lug a laptop around, Windows Continuum does little else while providing a less than optimal PC experience in return. Windows Continuum is a technological success that translates into a social failure. Any time technology fails to solve pressing needs, people will reject it.
Alexander Bain invented the fax machine back in 1846. Yet it took the combination of ubiquitous telephone service and cheaper long-distance service to make the fax machine popular. The fax machine solved a technological problem way ahead of its time, but failed to solve the problem that most people didn't have telephones back then.
Windows Continuum is a feature that looks good on paper but falls short in reality. To read PC World's article about one man's experience using Windows Continuum, click here.