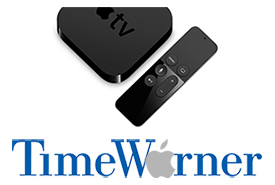 What it is: Apple's Eddie Cue mentioned that Apple considered acquiring Time Warner last year.
Hardware is a commodity. As soon as Apple or any other company creates a product, copycat knock-offs immediately appear. It's fairly easy to make copies of hardware and that's what makes relying on hardware sales so risky because copycats will undercut your price, forcing you to compete by cutting profit margins more and more. That strategy is known as the race to the bottom where everyone keeps cutting razor thin profit margins until there's nothing left for anyone.
That race to the bottom helped kill PC profits and it's starting to hurt smartphone and tablet sales as well. Android manufacturers are particularly vulnerable because people can buy Android devices from a variety of companies, so the only compelling advantage any company has is to lower their prices.
Apple can somewhat avoid this hardware commodity trap by selling iPhones and iPads. Not only does Apple make money selling hardware, but they make additional money selling services such as music, ebooks, or apps, which is something Android manufacturers can not do.
That's one problem with Apple TV. Right now it's just a box that connects a TV screen to the Internet, and any company can sell you a cheaper box that does the exact same thing. For years, Apple has tired to negotiate with various TV studios and networks to get exclusive content for the Apple TV, and that's why Apple's Eddie Cue mentioned Apple once considered acquiring Time Warner.
Exclusive content is the reason why Amazon and Netflix can charge subscription prices. In the old days, Netflix simply let you rent DVDs, and anyone can do that. Then Netflix let you stream videos, and anyone can do that. That's why Netflix created original content so if you want to watch certain TV shows or movies, you have no choice but to subscribe to Netflix.
That's why Apple needs to create original content of their own. Once they have unique shows that are only available on Apple TV, then they can compete. Until then, Apple TV can have all the fancy hardware features you want and it still won't matter because copycat clones will immediately appear that offer the exact same features for less cost.
The future of Apple TV is original content combined with links to the Apple TV app store and additional services allowing Apple TV owners to buy music and stream videos. The Apple TV app revolution has yet to take off because Apple TV still doesn't offer anything more than what other devices offer. Apple TV has a future, but it's not quite there yet.
Until Apple starts creating original content, rumors will continue about them acquiring a content creator like Netflix or Time Warner. It's inevitable that Apple needs original content. The only question is who might Apple acquire or how will Apple create original content on their own?
To read more about the rumored Apple/Time Warner merger, click here.