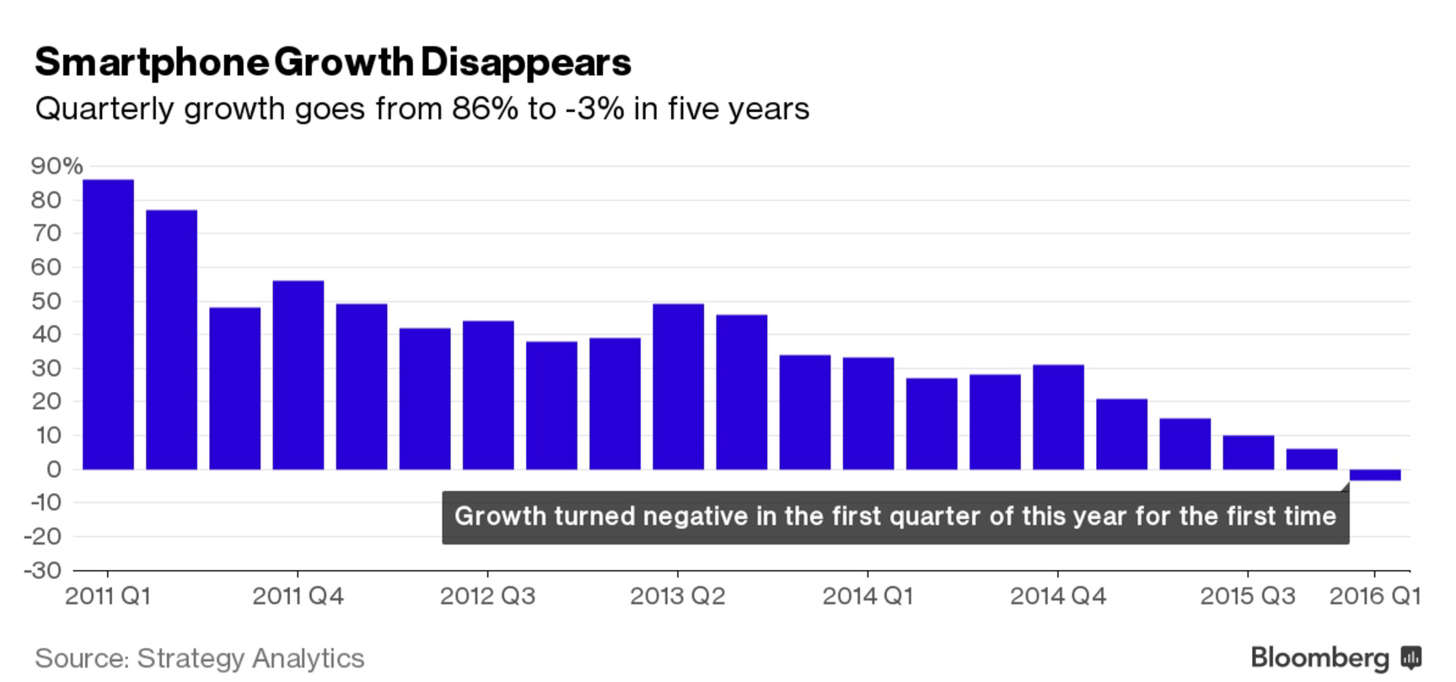 What it is: The smartphone market is slowing down as fewer first-time buyers exist and existing smartphone users upgrade their devices at a slower pace.
At one time, smartphone sales skyrocketed every quarter. That's because smartphones like the iPhone and its near-clone of Android devices represented a revolutionary change over older mobile phones made by Blackberry and Nokia. When Apple launched the iPhone in 2007, they essentially created a whole new smartphone category with a virgin market just waiting to be tapped.
Nearly a decade later, most people have long since abandoned Blackberry and Nokia phones and switched to iPhones or Android phones. That means the huge market of first-time smartphone buyers no longer exists any more. In the beginning, smartphones advanced so quickly that it made sense to upgrade as soon as possible. Most people upgraded in tow-year cycles but some upgraded every year.
Now smartphone advances are incremental but not revolutionary, so there's less of a reason to upgrade every year or two. With the loss of first-time buyers and the slow down in upgrade purchases of existing customers, it's no surprise that the smartphone market has been declining every quarter. It's not that people aren't using smartphones, but that they no longer need to keep upgrading to newer models as often. After all, an older iPhone 4 still works for most people just as well as an iPhone 6S sow hy bother upgrading?
The smartphone buying frenzy is over and never coming back because the conditions that created the smartphone buying frenzy are gone for good. That's why everyone from Apple and Samsung to Qualcomm are looking for ways to increase growth outside of smartphone sales. Given the fact that many Android smartphone manufacturers lose money selling smartphones with Samsung and a handful of other companies such as Huawei making money, it's easy to see that many smartphone manufacturers will simply give up altogether and exit the market the same way that Sony and IBM exited the PC market.
What's likely to make smartphones sexy again is some revolutionary advance that provides a must-have feature. Apple's iPhone 7 is rumored to sport dual cameras but that alone won't appeal to the everyday person beyond photography enthusiasts. What might prove more appealing could be augmented reality where you can view the world through your smartphone and see something added to your view that doesn't exist in reality.
For example, view a street corner through your smartphone's camera and the smartphone screen might show you the street name. Point your smartphone at a painting in a museum and not only will you see the painting, but you'll see additional text, in your native language, describing that painting. Augmented reality promises to offer a must-have feature that smartphone owners will want when it proves useful enough.
Initially such augmented reality features may be limited when they're first introduced, but the more useful and more features augmented reality offers, the more likely it will spur smartphone growth once more as people want that feature. Of course, anything like augmented reality can only spur growth for a fixed amount of time before it too saturated the market and people are satisfied with older technology.
The bottom line is that smartphone growth can't continue its rapid increases every quarter like it did at the start of the smartphone revolution. Instead, smartphone growth will simply taper off to a steady but not spectacular growth period. For companies, growth will no longer be key but cutting costs, which is the exact wrong formula. Instead, companies such as Apple should focus on customer satisfaction first and that will translate later into profits later. Companies that pursue profits first always shortchange the customer in the end. Just witness Dell Computer's efforts to save money by outsourcing technical support to call centers in India to save money, while upsetting American customers to such an extent that they often chose to buy anything but a Dell the next time around.
The plateauing of smartphone growth simply means that companies can choose how to compete in the future. Will they cut costs and quality while ignoring customer satisfaction? Or will they strive to keep customers satisfied and hope to see future profits as a result? Apple has shown that the latter approach can work, but it's hard for any company to pursue customer satisfaction first and profits second when Wall Street and financial analysts always focus on profits first and customers last. When any company does that, they simply doom themselves to failure.
With the smartphone market slowing down, watch the companies follow this well known path to failure and then wonder what happened.
To read more about the slowing smartphone market, click here.