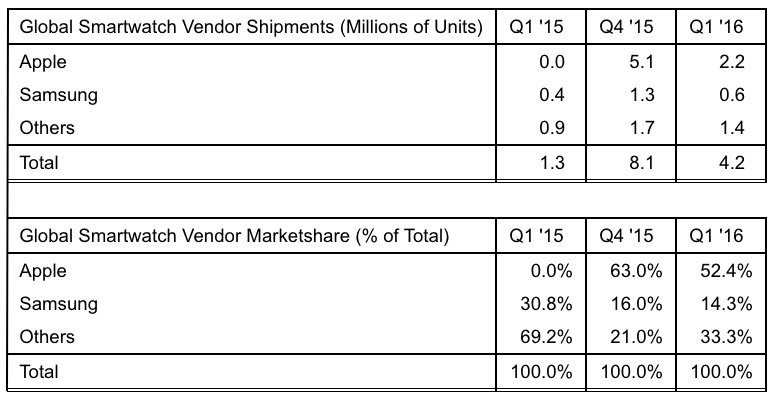 What it is: Apple's market share of the smartwatch category has slipped from 63% to 52.4%.
Financial analysts get easily confused. When judging any product, they focus solely on market share under the mistaken belief that a higher market share leads to higher profits. Yet that's not always true. Apple's iPhone holds less than 20% of the market share of the worldwide smartphone market, but gobbles up over 94% of the profits. With only Apple selling iPhones and dozens of companies selling Android phones, it's only inevitable that Android will become the market share leader in the smartphone operating system market.
Yet beyond Samsung, no other Android smartphone manufacturer makes money and most in fact lose money. It's hard to make a profit when you're constantly losing money, yet financial analysts seem to prefer the larger market share of Android manufacturers compared to the smaller market share (but higher profit share) of the iPhone.
In the smartwatch category, the pattern is repeating itself. Apple's share of the smartwatch market keeps falling as more manufacturers flood the market with Android Wear smart watches. Yet while Apple sells millions of Apple Watches, Android Wear manufacturers individually sell hundreds of thousand units that all add up to a steadily growing share of the market collectively.
Taken at first glance, it appears that the market share of the Apple Watch is shrinking and that fewer people are buying Apple Watches. Yet the reality is that the smart watch total market is growing faster than the Apple Watch. So it's only inevitable that the Apple Watch's market share will eventually be surpassed by Android Wear, but it seems equally likely that no single Android Wear manufacture will make the same amount of profits as Apple does on the apple Watch.
The problem ultimately boils down to commodities. The differences between Android phones is minimal since they all run Android. Tablet's why Blackberry's Android powered smartphone isn't the roaring success Blackberry hoped it would be because why bother getting a Blackberry Android phone when you can get a Samsung, LG, or HTC Android phone for a lower price?
The fact that more people use Android makes no difference if companies selling Android smartphones, tablets, and smart watches can't make much money selling products except through volume, and relying on volume means constantly finding new customers every quarter to maintain revenue. In comparison, Apple sells hardware initially but then sells additional services such as apps that generate additional revenue from existing customers.
Where Android manufacturers only make money selling hardware once, Apple makes money selling hardware once and services multiple times. So each iPhone or Apple Watch sold will likely generate more revenue than the initial sale. That allows Apple to sell fewer products yet still make more money. Even though Apple sells fewer products, they also sell their products for more.
So the inevitable decline in Apple's share of the smartwatch category is inevitable but not as important as tracking their profit share. Unlike the iPhone, fewer Apple Watch owners likely purchase as many additional services such as apps, songs, ebooks, or streaming music subscriptions solely for their Apple Watch. That's why Apple is promoting Apple Watch bands and other accessories to generate additional income from existing Apple Watch owners.
The bottom line is that market share is never the sole predictor of profit share and is often a smokescreen that disguises profit share. The whole point of business is to make money and if you can't make money, then nothing else matters. Android can have all the market share they want but if they aren't making money, it doesn't matter. Profit share trumps market share every time.
To read more about Apple's declining smartwatch market share, click here.