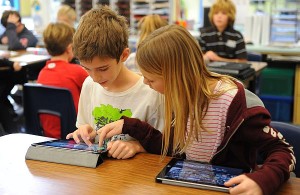 What it is: In America, the trend is to rely more on technology to improve education. That's a recipe for disappointment and failure.
The United States education system has always been searching for a magic bullet that will somehow transform education into a wondrous program that works 100% successfully for every student. In the past, this wonder technology has arrived in the form of PCs, then iPads, and then Chromebooks because they're cheapest of all. Yet adding more technology is never the answer because technology can never solve social problems and education is basically a social issue.
Why so so many kids have trouble learning reading, math, and history? It's not because they're stupid or that teachers are incompetent, but because this information is largely irrelevant to the lives of so many children. When you're taught an abstract topic that you'll never use in real life, the natural tendency of the mind is to ask, "What's the point?" And then tune out and forget 99% of what you learned.
Having technology deliver additional education won't help either because the problem isn't technology. Better technology can only solve technological problems. They can never solve any other types of problems. Why do so many kids dislike school? Giving them more technology isn't the answer. Finding out why kids dislike school is the answer, but it's harder to solve than simply spending millions buying new technology.
That's why the American craze of buying PCs, iPads, or Chromebooks for the classroom is pointless. Finland has one of the best educational systems in the world, and they rely primarily on close teacher-student interaction without an iPad or Chromebook in sight. The goal is to nurture students to give them confidence to master new material and feel confident that they can learn more. Giving positive feedback and reinforcement is something a human teacher can do far better than a mechanical device like an iPad or Chromebook could ever do. People thrive in interactions with others. Technology is simply a way to help people interact but can never substitute for it.
That's why all the technology initiatives in school are doomed to fail. No amount of iPads or Chromebooks can solve the educational problem because iPads and Chromebooks can only solve technological problems. Solve a problem with the wrong tool and you'll always get the wrong result. That's something schools officials never seem to learn.
To read more about how Finland's educational system works without relying on technology, click here.