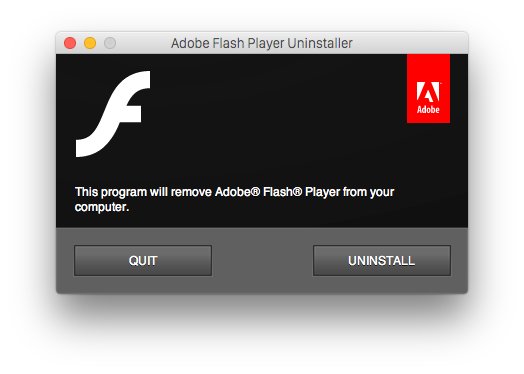 What it is: Flash is a plug-in that provides interactivity and animation.
When Steve Jobs announced that Flash wouldn't run on the iPhone, critics immediately set out to prove why Flash was vitally important for browsing the Internet. Android manufacturers gleefully advertised that their smartphones ran Flash so that made them better than the iPhone. Yet the reason why Flash failed had less to do with Apple and more to do with the nature of Flash itself.
Flash requires constant processing to display its animation. On a desktop PC plugged into a steady supply of electricity, this worked fine, but on a laptop, smartphone, or tablet, this meant Flash drained the battery unnecessarily. Even worse, Flash is often used by malicious hackers to spread malware. That means you must constantly update Flash on your devices to shut down vulnerabilities practically every week. Since so many security flaws pop up so often, Flash is a major reason why malware can infect computers.
Even worse, initial versions of Flash didn't support touch screens so it made no sense to put Flash on the iPhone when it wouldn't recognize touch gestures. This would make the iPhone appear frozen and unresponsive when it was really Flash's fault. Android smartphones and tablets managed to get Flash running, but because Flash ran so erratically and poorly, even Android manufacturers stopped promoting Flash as a positive selling point for Android devices. Not surprisingly, Apple led the way to abandon Flash and the rest of the world is slowly catching up.
Google now plans to abandon Flash-based ads and display them in HTML5 instead. Unlike Flash, HTML5 is a real opens standard with far fewer security risks and little need for additional processing power to display animation so there's no drain on battery life. If you want to see an outdated website, look for any site that still relies on Flash.
The sooner you get rid of Flash, the better. While you may still need Flash to access some websites, try to avoid Flash as much as possible because it simply opens up security flaws in your computer whether you have Windows, Linux, or a Macintosh. If you want to uninstall Flash from your Macintosh, click here.
From the beginning, Flash has been a security nightmare compound by its persistent processing needs that drain power. Now with Google abandoning Flash in its ads, there's hope that Flash will completely go away and remain a distant memory like 1200 baud modems or online services like CompuServe. Get rid of Flash now and don't look back. Your computer will thank you for this decision.
To read more about Google abandoning Flash, click here.