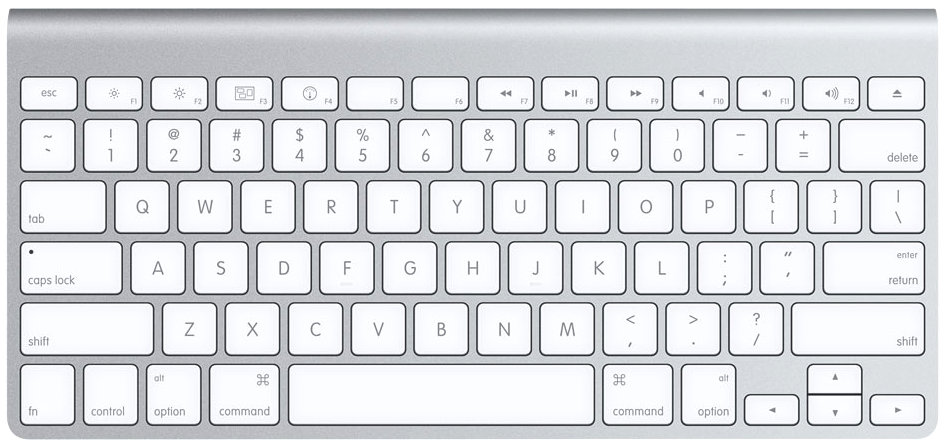 What it is: The Macintosh keyboard is similar to the Windows keyboard but with a few minor differences.
If you're a long time computer user, chances are good you know how to use a Windows PC. Chances are also good that you're used to the keyboard shortcut commands commonly used to control Windows programs such as Ctrl+S to save a file or Ctrl+O to open a file.
Although the Macintosh is slightly different, both types of computers work essentially the same. The main difference is where Windows uses the Control (Ctrl) key for most common commands, the Macintosh uses the Command key for most common commands.
So if you're used to Windows shortcuts, just replace the Ctrl key with the Command key and chances are good that will work just the same. For example, instead of pressing Ctrl+S to save a file as in Windows, the Macintosh would let you press Command+S to save a file.
Instead of pressing Ctrl+O to open a file in Windows, you would press Command+O to open a file in the Macintosh.
As a general rule of thumb, just replace the Command key for the Ctrl key and your Windows shortcuts will work identically on the Macintosh.
Some Windows keystroke shortcuts use the Alt key such as Alt+F5, so in the Macintosh replace the Alt key with the Option key such as Option+F5.
As you can see, the keystroke shortcuts are similar enough to be familiar but different enough to throw off your timing the first time you switch from a Windows PC to a Macintosh (or vice versa). As long as you remember that the Macintosh Command key is like the Windows Control key and the Macintosh Option key is like the Windows Alt key, you should have little problem making the transition from one keyboard to the other.