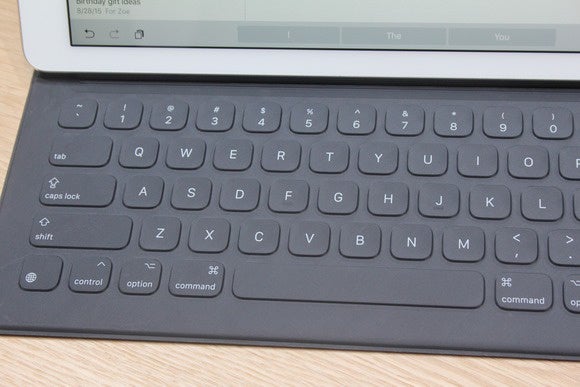 What it is: Apple's Smart Keyboard is an accessory that provides a screen cover and a keyboard for the iPad Pro.
At $169, Apple's Smart Keyboard might seem like an expensive and unnecessary accessory. If you have an iPad Pro and don't need to type often, then the virtual keyboard on the iPad screen will likely be enough for you. Best of all, the virtual keyboard can easily switch between multiple foreign languages, which the physical Smart Keyboard cannot do.
After several months of using both a MacBook and an iPad Pro, I've come to realize that the iPad Pro is actually a better writing device. Both are portable while the MacBook is much smaller. Both feel about the same weight, yet the MacBook keyboard is flatter while the Smart Keyboard for the iPad Pro haas a better touch typing experience even though its keys are also much flatter than a typical laptop's keyboard.
Both the MacBook and the iPad Pro turn on almost instantaneously, but for long periods of typing, the Smart Keyboard is far better than I expected it to be. The main purpose for my MacBook is for portable computing that involves using Xcode or some other program only available on OS X. The main purpose of the iPad Pro is to do everything else that doesn't require an OS X-specific program like Xcode. That basically means the iPad Pro is more versatile for most everyday tasks.
Now combine the Smart Keyboard with the iPad Pro and you suddenly have a light, portable, easy to use laptop that requires little maintenance of its operating system. Anyone familiar with Windows knows that over time, Windows starts slowing down. Only constant Windows registry defragmenting can keep a Windows PC running at its original speed. Even OS X suffers slightly from this problem as permissions get fouled up and the hard disk loses track of files, but nowhere near as badly as Windows does. Still, OS X requires a little more maintenance than iOS so the iPad Pro is the perfect non-tech-savvy user's device for portable computing.
If you have a need to run Windows in a virtual machine or run a specific OS X program like Xcode, then you'll need a Macintosh laptop. However if you don't need OS X or any desktop applications, then an iPad Pro with the Smart Keyboard might actually be a better choice for you. Even though Logitech and other companies sell keyboard accessories for the iPad Pro, try the Smart Keyboard.
Logitech's iPad Pro keyboard costs less and offers a keyboard that more closely resembles a typical laptop keyboard. While this might seem like an advantage, it's actually a disadvantage once you try Apple's Smart Keyboard. That's when you'll realize that duplicating a laptop keyboard still doesn't match the touch typing feel of Apple's Smart Keyboard. In addition, the Smart Keyboard easily disconnects from the iPad Pro while Logitech's keyboard wraps completely around the iPad Pro, providing more protection but at the expense of making it difficult to remove the iPad Pro from its case easily.
Initially I thought Logitech's keyboard would be better than Apple's Smart Keyboard, but after several months, Apple's Smart Keyboard wins hands down. It's still more expensive than Logitech's keyboard, but for the higher price, you get a better typing experience and a simpler protective case.
Of course you'll have to try both for yourself but once you try Apple's Smart Keyboard, you may be pleasantly surprised at how functional it really can be.
To read more about the comparison between Apple's Smart Keyboard and Logitech's keyboard, click here.