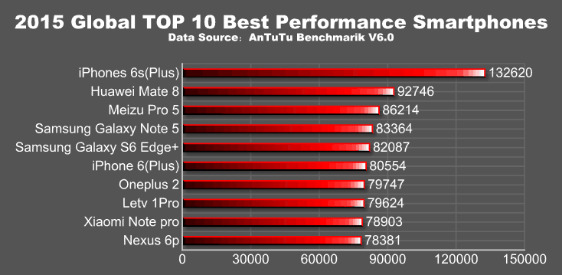 What it is: Manufacturers love touting a laundry list of technical specifications to "prove" their product is superior to rival products. But technical specifications mean nothing if they don't actually do anything for the consumer.
Benchmark vendor Antutu regularly tests the performance of different smartphones. Their benchmarks are so respected that Samsung, Asus, HTC, and LG have repeatedly been caught fudging their performance rankings to make their products look faster than they really are. "With the exception of Apple and [Google subsiderary] Motorola," AnandTech observed, "literally every single OEM we've worked with ships (or has shipped) at least one device" that has cheated in benchmarks.
Besides cheating on benchmarks as a way to fool consumers, other companies cram faster processors with more cores and more RAM to prove that their products are superior to the iPhone. Yet Antutu's benchmarks show that the iPhone 6 Plus is not only faster than all other smartphones, but faster by a huge margin, despite having less RAM, fewer cores, and slower processors. The lesson is clear. Technical specifications mean nothing if they don't translate into better performance.
The main reason why rivals have to resort to adding better technical specifications that don't provide better performance is because they know their products aren't as good as the iPhone, so they have to find ways to fake it. Besides blatant cheating on benchmark tests, rivals think adding more cores to a processor or more RAM will fool people into think their product must be superior because it has more than the iPhone. That's like saying a 1972 rusted out Ford Pinto is superior to a brand new Harley-Davidson motorcycle just because the Ford Pinto has four wheels and the Harley-Davidson motorcycle only has two.
There are valid reasons for not choosing an iPhone, but being fooled by higher technical specifications that provide lower performance shouldn't be one of them. If companies are willing to deliberately cheat on benchmarks to make their products look better, shouldn't you be suspicious of their products in the first place? If someone has to lie to get you to buy their products, why would you trust anything they say?
The reason why the iPhone can offer greater performance than rival smartphones with better technical specifications is simply because Apple develops their own processor and optimizes their operating system to work with their processor. Other manufacturers have to take off the shelf parts, cram them in a case, and hope that those off the shelf parts can rival the optimized hardware and software combination of the iPhone. It will never work.
Because it will never work, rivals rely on cheating and lying. If that's the only way you can sell products, you're already in trouble knowing you're selling inferior goods to ignorant and gullible people. Most people simply buy what's convenient and affordable at the time, but if you knowingly buy such products, what does that say about who you are as a person?
If rivals really want to compete against the iPhone, they just need to legitimately build better products. Since that's too costly and time-consuming, it's easier to cheat instead. Just ask Volkswagen how well cheating worked out for them.
The iPhone has set the standard for smartphones because it's currently the best one out there. In fact the iPhone is so good Android had to copy its design and appearance. While Android offers features that the iPhone may lack, there's no denying that Android only exists in its current form because it copied the iPhone.
Whatever smartphone you buy is up to you. Knowing that other companies are willing to lie and cheat to make a sale, you can choose to give your money to unscrupulous companies, or you can choose to give your money to a company that's constantly setting the standard for the future. The choice is yours.
To read more about how other companies can't make a smartphone that legitimately beats the iPhone, click here.