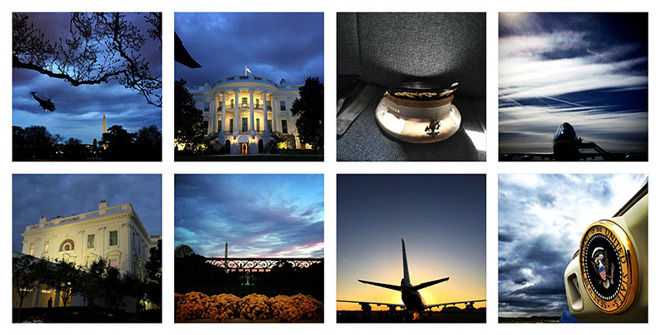 What it is: The White House's official photographer used an iPhone to take pictures of official activities.
Pete Souza, President Barack Obama's Chief Official White House Photographer, posted his annual "Year on Instagram" collection of photos to the Web on Monday, this year selecting only images shot on iPhone. What's amazing is that the iPhone's camera can capture such stunning images that previously required a dedicated camera.
Anyone remember when film cameras captured higher resolution than digital cameras until one day they didn't? That's when everyone switched to digital cameras and the film business basically evaporated overnight.
Anyone remember when people carried around separate digital cameras? Then built-in cameras in smartphones became so good that even professional photographers stopped using separate cameras and just used the camera in the iPhone instead as the White House's official photographer has done.
Of course there are still dedicated digital cameras that offer far more features than an iPhone's camera could possibly provide, but the main point is that dedicated devices will always offer more features, but at a cost. Beyond the monetary expenses needed to buy a dedicated camera, there's also the cost of lugging around a bag full of lenses and camera equipment. If you want to capture a shot with a dedicated digital camera, you need to lug that camera around at all times and keep it ready for taking pictures.
In comparison, an iPhone camera is always ready and can always be whipped out at a moment's notice to capture a high-quality image. The iPhone basically killed the iPod and the dedicated digital camera along with personal digital assistants like the Palm Pilot.
Dedicated devices are great for specialized uses, but for everyday use, integrated devices are far more useful and convenient. As the iPhone's camera keeps improving, the quality between the iPhone camera and a dedicated camera will continue to shrink. The dedicated camera will always capture better images, but with far less convenience. You can think of a dedicated digital camera compared to the iPhone camera like a supercomputer compared to a PC. The PC will never be as powerful as a supercomputer, but it will always be more convenient and easier to use.
That's also why smartphones are basically helping kill the PC market because when you can do most common PC tasks on a smartphone such as e-mail or browsing, you have little need to buy a new PC either.
The PC, iPod, and digital cameras are all being absorbed into smartphones and tablets, and likely wearable computers as well. Just as no one will likely go back to using a PC for everything, so no one will ever go back to dedicated digital cameras either. As the White House photographs prove, the quality gap between the iPhone's camera and dedicated digital cameras is so small that it's effectively irrelevant.
To learn more about how the official White House photographer uses an iPhone to capture images, click here.