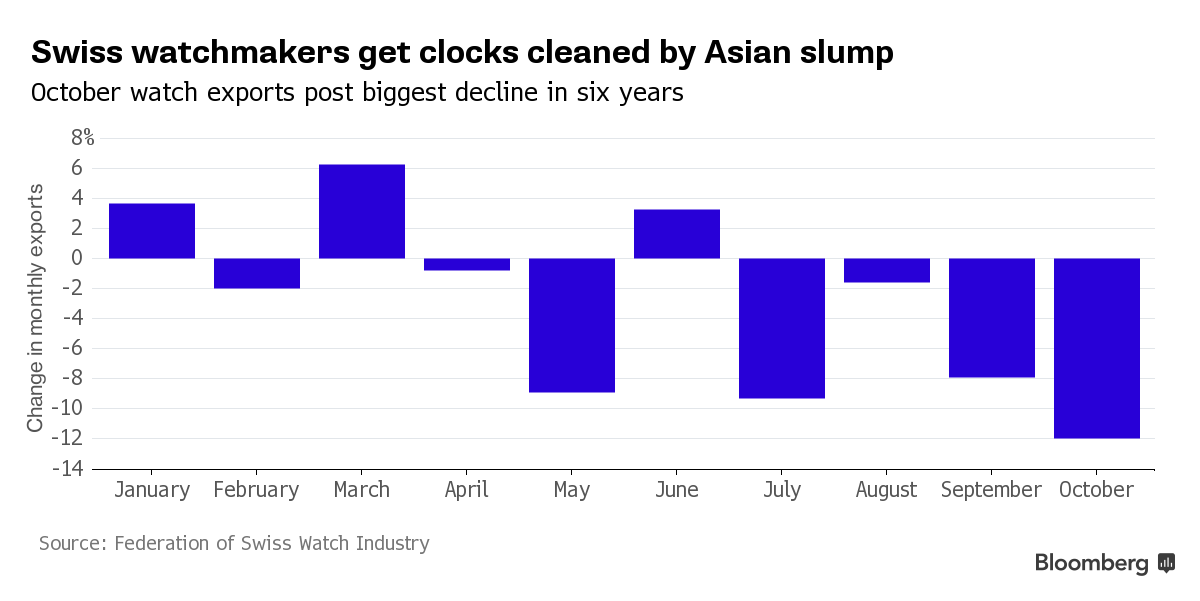 What it is: Sales of Swiss watches have plummeted ever since Apple introduced the Apple Watch.
When Apple introduced the iPhone, Nokia (Finland) and Blackberry (Canada) dominated the smartphone markets. Both companies were held in high regard not only in their home countries but around the world as well. Then the iPhone decimated the smartphone industries and killed both Nokia and Blackberry. Alexander Stubb, Finland's prime minister, even said, 'A little bit paradoxically I guess one could say that the iPhone killed Nokia and the iPad killed the Finnish paper industry, but we'll make a comeback.'
Now with the introduction of the Apple Watch, Swiss watch makers are reporting declining sales. After all, why buy a traditional mechanical watch that is more useful as jewelry than keeping time when you can just buy an Apple Watch that does so much more than just tell time? Apparently given a choice between a traditional watch or an Apple Watch, more people are choosing to buy an Apple Watch.
This is no different than the choice between clumsy smartphones and the iPhone. The iPhone offers clear advantages over older smartphones while the Apple Watch offers clear advantages over traditional watches.
While Switzerland joins Finland and Canada in seeing its major industries get hammered by Apple, the next place to watch will be Detroit.
The rumored Apple Car will be an electric car that's self-driving. Electric cars basically circumvent Detroit's car makers' expertise in internal combustion engines and fuel systems. Even automotive frames need to be slightly different for electric cars than gas powered cars because electric cars need room for a battery while gas powered cars need room for fuel tanks along with fuel injection systems. When Apple releases its Apple Car, expect to see Detroit's auto makers suffer the same fate as Blackberry, Nokia, and Swiss watch makers.
Apple looks for stable, mature markets and then disrupts them with something much better. They did it with the iPhone (that killed other smartphones), the iPad (that killed netbooks), the Apple Watch (that's killing Swiss watch makers), and soon with the Apple Car (that will kill Detroit's big three auto makers). Watching such massive disruption occur on a regular basis should be a clear warning for everyone that their industry is not safe if they refuse to innovate and change.
Sadly, far too many people will cling to inertia to milk profits from the current, inefficient way of working until it's too late. Just ask Kodak how well their film business is doing or ask Borders Books how well they're competing against Amazon.
Apple will continue killing national industries that are too slow to adapt to change. The only question is how well will you adapt to Apple's latest products?
To read more about the demise of the Swiss watch industry, click here.