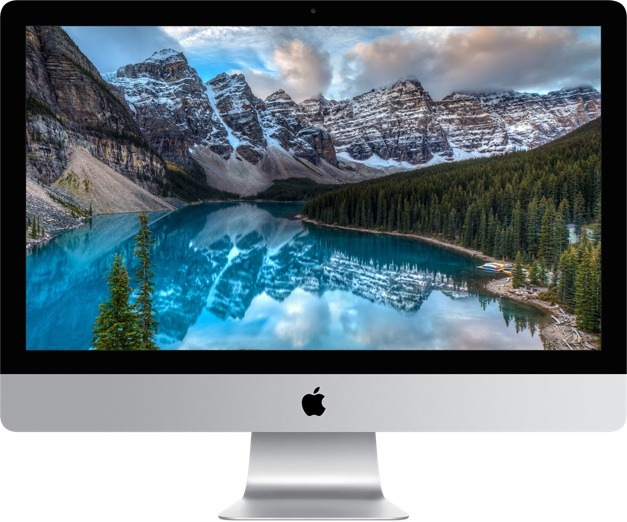 What it is: Apple announced new iMac models with updated hardware.
In case you're wondering why Apple hasn't updated their laptops and desktop models in a long time, it's because of Intel. Back in 2013, Intel introduced processors known as the fourth generation called Haswell. If you buy an older Macintosh, chances are good it has a Haswell processor in it. Even today if you buy a Mac mini, it comes with a Haswell processor.
There's nothing wrong with an older processor for light work like word processing, Internet browsing, and e-mail. However if you need more power and speed, you don't want yesterday's technology. That's why you should look at the new iMac models.
The 21-inch iMac comes with a fifth generation Intel processor known as Broadwell, which is an improvement over the older Haswell processors. The 27-inch iMac comes with a sixth generation Intel processor known as Skylake, which is currently Intel's fastest and most advanced processor available. If you want speed and power, you want a Skylake processor, which means you want a 27-inch iMac.
The Skylake and Broadwell processors will likely arrive soon in the Mac mini and MacBook Pro/MacBook Air/MacBook laptops. The Skylake processor is the fastest and most advanced, but you may not need power and speed. In that case, save a little money with a Broadwell processor instead, or save a lot of money and buy a used or refurbished older iMac using Haswell processors.
For light computing work, any processor will do. For speed and economy, a Broadwell processor will be fine. For absolute power, get a Skylake processor. That means for now, the 27-inch iMac is what you want for its Skylake processor. For those on a budget, get the 21-inch iMac with a Broadwell processor. For those really on a budget, get a bargain by getting a refurbished iMac that will come with a Haswell processor.
Power is useless if you don't need it, much like getting a Lamborghini and only driving it 10 miles per hour during rush hour every morning. You may have power, but it's not being used so you might as well not even bother having it.
Ultimately, get the right processor for your needs. Don't waste your money getting the latest and greatest unless you really need it. Just wait another generation and you'll get today's latest and greatest for far less if you can be patient.
iMac 27-inch : Skylake processors (sixth generation)
iMac 21-inch : Broadwell processors (fifth generation)
Most older iMac and Mac mini models: Haswell processors (fourth generation)
To read about the latest iMac models using Broadwell (21-inch) and Skylake (27-inch) processors, click here.