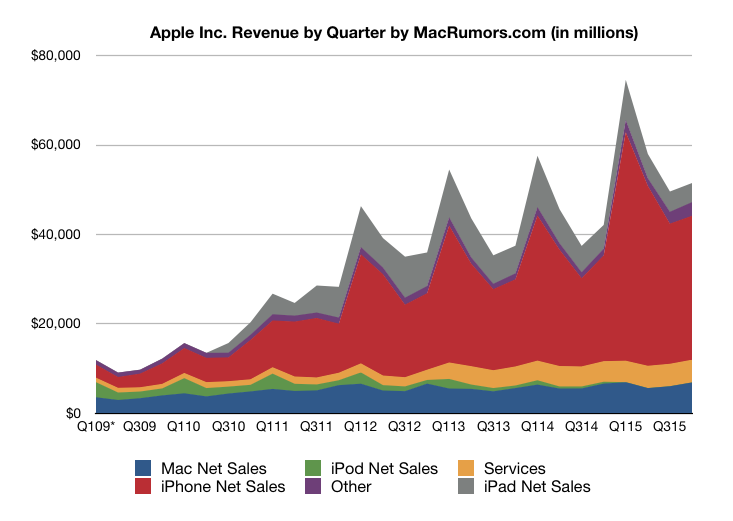 What it is: Apple keeps making products that people keep buying, yet Wall Street can see nothing but pessimism and doom for Apple's future.
Here are the facts. For the third calendar quarter and fourth fiscal quarter of 2015, Apple posted revenue of $51.5 billion and net quarterly profit of $11.1 billion, compared to revenue of $42.1 billion and net quarterly profit of $8.5 billion in the year-ago quarter.
For that quarter, Apple sold 48 million iPhones, up from 39.2 million in the year-ago quarter. iPad sales were down to 9.9 million from 12.3 million in the fourth quarter of 2014, but Macintosh sales rose to 5.7 million from 5.5 million.
Take note of that fact. While the entire PC market continues its steady decline, Macintosh sales keep climbing. Most likely many Macintosh users currently use a Windows PC or had used a Windows PC. For Macintosh sales to keep steadily rising means that many former Windows PC users are switching to the Macintosh.
Now notice the pessimistic fact that iPad sales keep slipping. Part of the reason is that larger iPhones are serviceable as tiny tablets, another part of the reason is that tablets last a long time and don't need a yearly replacement like smartphones do. After all, there's little difference between an iPad Air 2 and an iPad Air. People want a new smartphone because they use it all the time. People don't use tablets as often and if they do, their current tablet is likely sufficient for years to come.
Of course, this trend of declining iPad sales should at least temporarily reverse itself when Apple introduces the iPad Pro this November. The introduction of this new product category will likely give iPad sales a bump upwards, but whether a larger iPad can maintain increasing sales is another question altogether.
The real news is that Apple keeps selling more iPads than any other tablet manufacturer in the world. Microsoft, Samsung, and any other manufacturer would kill to have tablet sales of 9.9 million a quarter so this number is only troubling compared to previous sales that were higher.
What would be interesting is how many Macintosh computers are laptops and how many are desktops (iMac, Mac Pro, and Mac mini). If more Macintosh computers are laptops, then that indicates mobility is more important, and thinner, lighter MacBook laptops are also hurting iPad sales. For many people, an iPad is nice, but a MacBook laptop is far more crucial. The iPad Pro likely won't reverse that trend, but it can reverse that trend among artists who prefer drawing with the Apple Pencil on the iPad Pro.
In short, iPhone sales keep rising, Macintosh sales keep rising, and iPad sales keep sinking. In comparison, Samsung keeps seeing declining smartphone sales along with weak tablet sales, and Microsoft and other companies involved in PCs also see steady declines in the PC market. Out of all the technology companies, Apple is doing the best and remains the strongest while others cling to the sinking world of PCs.
One other note is that apple announced a 0.52 cent dividend. That means if you have 2,000 shares of Apple stock, you'd earn $1,040, which would be enough to help you buy a new Macintosh, iPad, or iPhone. The chances of Apple abandoning their dividend soon is unlikely, so if you want a steady source of income, buy Apple stock and keep cashing those dividend checks every quarter.
To read more about Apple's latest financial results, click here.