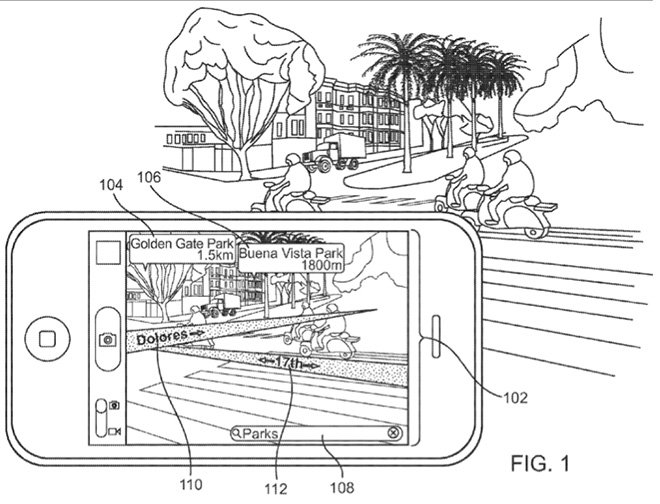 What it is: Augmented reality is a way to enhance what you see and hear around you. Rather than create a whole new world like virtual reality, augmented reality works with reality by adding additional help.
Apple recently hired away Microsoft's lead audio engineer for their HoloLens project. That signals that Apple likely has an augmented reality project of their own. As the above picture shows, this would allow you to view something through your iPhone or iPad and see additional information about the actual items you see.
For example, you could point your camera at a street and immediately see street names. Point your camera at a museum exhibit and you could get information about that item that can be more information than what's printed nearby. Point your camera at someone's eye and augmented reality could analyze the appearance of the eye to display a likely diagnosis. Imagine pointing your camera at a sign and have your iPhone/iPad display a translation right in front of your eyes. Augmented reality promises to change the way we look at reality.
Augmented reality works when you can peek at something and then put it away. Augmented reality won't work if it requires you to walk around with a headset strapped to your face the whole time. That's why augmented reality can work best with the iPhone/iPad so you can see augmented reality when you want it and then see ordinary reality the rest of the time.
Everyone thinks that Apple's September 9 event is going to focus on the Apple TV, but what seems even more likely is Apple's augmented reality project being revealed. Back in May, Apple acquired a German company called Metaio, which was already selling augmented reality apps for the iPhone/iPad that was being used to augment museum exhibits. Metaio even had software available for making it easy to create augmented reality.
So Apple's September 9 announcement looks odd. It's being held at the civic center that can hold 7000 people (three times as many as typical venues where Apple announces products) and it even blocks off streets around the civic center. That's likely for people to walk around and view augmented reality on their own iOS devices after seeing a demo in the civic center.
Would Apple really need a huge venue to hold 7000 just to show off a new Apple TV? Maybe, but it seems far more likely that Apple took Metaio's augmented reality software that was already shipping back in May, and polished it up to create augmented reality for their own purposes such as making their own Apple retail stores more interactive. Point an iPhone at a Macintosh and augmented reality can show you the technical specifications for that item. Instead of viewing web pages describing various Apple products, augmented reality within an Apple Store can provide far more information while making the sales pitch visually exciting at the same time.
On September 9, don't bother looking for Apple TV or an Apple car. Look for augmented reality acquired from Metaio. That's going to be the next new product from Apple and it's going to literally change the way stores promote their products in stores.
To read more about Metaio's augmented reality products that Apple acquired, click here.