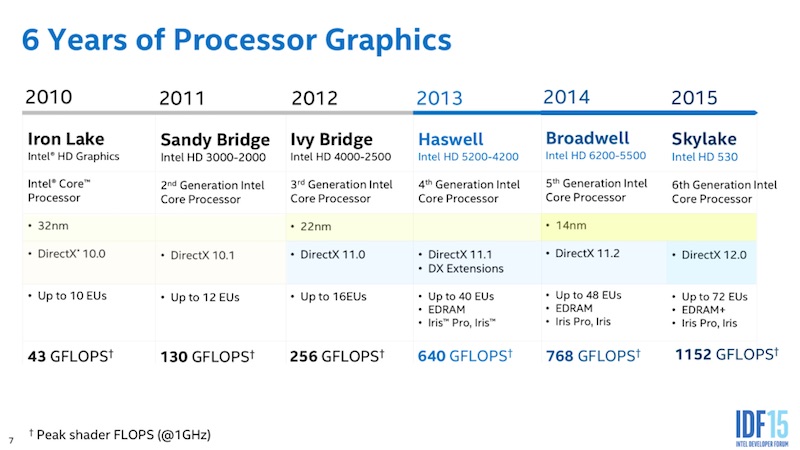 What it is: The Skylake processor is Intel's newest processor that offers improved performance.
You could buy a Macintosh and get an older Haswell processor buried inside. While it will work perfectly well, if you wait another month or two, you can get a macintosh for the same price but with an Intel Skylake processor in it.
Compared to the older Haswell processors used in most Macintosh computers models today, the Skylake processor is almost twice as fast. If you're in the market for a new Macintosh, you might as well wait for Skylake and get vastly better performance over today's Haswell processors.
If you look at the above chart, you may see that Broadwell processors are available, but most Macintosh models don't use Broadwell processors because Intel was so late introducing Broadwell processors to the market. That's why most computers today still rely on Haswell processors.
If you just want a less expensive Macintosh, then buy a refurbished Macintosh and save yourself even more money. However if you want the fastest computer possible, you want one with a Skylake processor. Expect Apple to refresh their desktop and laptop models with Skylake processors this fall, just in time for the Christmas buying season.
Of course, speed isn't everything. If you're just a casual computer user, stay one generation behind and save money. Wait for Skylake processors to appear in new Macintosh models and then buy today's current models instead. Just by waiting and being patient, you can save money and get yourself a decent Macintosh.
Do you really need the absolute fastest computer possible? Probably not, but speed will always translate into greater convenience with programs running faster. Pack your Macintosh with plenty of memory (at least 8GB of RAM) and a large hard disk (at least 1TB) and you should have a decent computer that will last at least five years. By that time, computers will be so much faster that you'll be able to make a quantum leap in performance without paying a massive amount for the privilege.
If you need speed, wait for Skylake. If you don't need speed, wait for Skylake and buy a generation behind. Either way you'll come out ahead just by waiting for Skylake to appear in newer Macintosh models in another month or two, so let your patience reward you with saving money and you'll be happier you didn't rush too soon to buy something that's too expensive and that quickly becomes out of date a few weeks later.