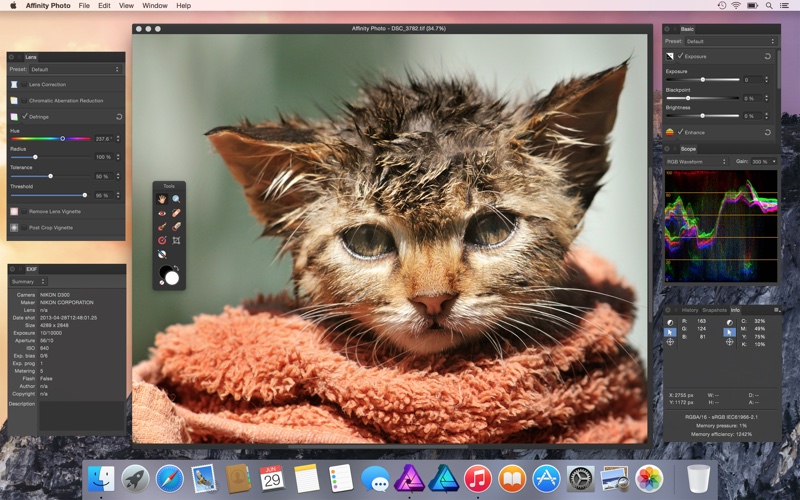 What it is: Affinity Photo is graphics editor that's much cheaper than Photoshop but just as powerful.
In the old days you had a limited number of choices if you wanted to do photo editing. On the one hand, you could spend hundreds of dollars getting Adobe Photoshop. On the other hand, you could use much simpler but also much more limited graphics editing programs like the free Paintbrush program.
Even Adobe recognized this problem so they released a much lower cost version called Photoshop Elements. Photoshop Elements gives you the majority of Photoshop features but at a much lower price ($99 retail). The best part about using Photoshop Elements is that the user interface is the same as Photoshop so you can seamlessly transfer from Photoshop Elements to Photoshop.
One problem with Photoshop Elements is that it's cross-platform, which means it's designed to run on both Windows and OS X. While this may be useful for people who need to use both Windows and OS X, it also means that the program isn't optimized for either Windows or OS X. If you want a photo editing program designed solely for OS X, your choices immediately fall to Pixelmator ($29) and Affinity Photo ($49).
Affinity Photo is the newcomer to the OS X graphics editor market, but it already supports a wide variety of the Macintosh's latest features including Force Touch (on the MacBook's trackpad), iCloud, and retina displays. Despite support for the latest Apple hardware, Affinity Photo can still run on 2GB of RAM, OS X Lion (10.7.5) or newer, and an Intel 64-bit processor Core 2 Duo processor from 2007. If you have a Macintosh, chances are good you can run Affinity Photo. If you have the latest Macintosh, chances are good it will take full advantage of your newest hardware.
Pixelmator has long been a favorite alternative to Photoshop, but Affinity Photo is definitely worth a look despite its slightly higher price. Affinity Photo isn't just targeting budget conscious graphics artists but also the same market that may be tempted to use the full-blown version of Photoshop.
Not only can Affinity Photo create, edit, and import/export Photoshop (.psd) files, but it can also import files from a device connected to your Macintosh (such as an iPhone or iPad), RAW files captured by digital cameras, PDF files, SVG vector files, and common graphic file formats such as JPG, PNG, and GIF.
Like most graphics editors, Affinity Photo offers a variety of retouching tools, selection tools, and layer filtering tools. Even though Affinity Photo isn't identical to Photoshop, any Photoshop user should have little problems learning the Affinity Photo user interface.
Most graphics editors contain plenty of commands for editing images, but few make it easy to type, modify, and edit text in visually appealing ways. To make it easy to manipulate text as graphic images, Affinity Photo offers a special Text menu.
One text command lets you create superscript or subscript so you can make mathematical equations or chemical equations. Another text command lets you adjust the spacing between the characters much like a desktop publishing program would do.
An especially interesting feature of Affinity Photo is the ability to import text from an ASCII file. This makes it easy to create and edit text in a text editor like TextEdit, and then graphically modify it in Affinity Photo such as rotating it or adding shadows to each character.
When you're editing an image, Affinity Photo lets you create snapshots, which essentially save your current work. That way if you modify an image and completely ruin it, you can revert back to a previous snapshot without losing all your work.
Affinity Photo also offers a unique Save History with Document command that lets you save an edited image that also includes all the steps you followed to create or edit that particular image. By giving others the ability to review each step you used to create or edit an image, you can share files that act as tutorials for teaching different graphics editing techniques.
If you can't afford the full blown version of Photoshop, you might see lower-cost graphics editors as compromises, but they aren't. Affinity Photo isn't just for budget-conscious graphic artists but also for professional graphic artists who aren't afraid to use an alternative to Photoshop.
Whether you're a beginner or professional graphic artist, you'll find Affinity Photo can be a low-cost, simpler, and complete replacement for Adobe Photoshop. Even if you need to stay with Photoshop, you might find Affinity Photo can be a handy complement to Photoshop.
If you need to edit photographs or design graphics, you'll find Affinity Photo can meet all your graphic editing needs. With file format compatibility and comprehensive graphic editing commands, Affinity Photo might be one of the best (and cheapest) graphics editor for the Macintosh that everyone can use for professional or personal projects.