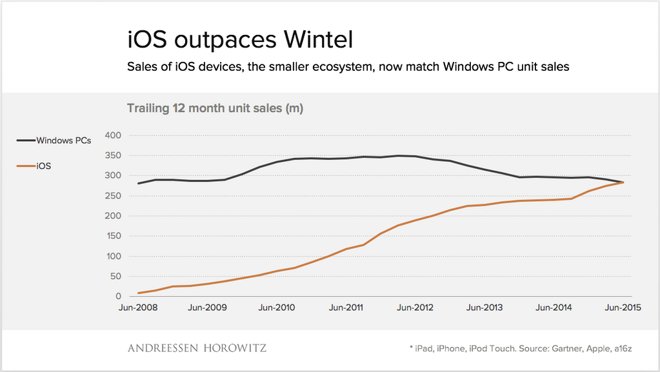 What it is: Trends show you the future. By watching the trends, you can predict what's likely to continue happening.
If you saw a car rolling down a hill towards the edge of a cliff, it's easy to predict that if the car continues rolling down the hill, it will eventually fall off the cliff. That doesn't take any deductive powers of reasoning other than simply seeing what's happening before your eyes. Yet seeing reality is often difficult for people to do when they have a vested interest in another outcome happening.
When people cling to fantasy instead of taking a cold hard look at reality, that's when they risk putting themselves in an increasingly dire situation. If you talk to many Windows enthusiasts, they'll continue denying that Windows is no longer a major force in the computer industry. Yet the trends suggest otherwise.
In the above graph, you can see that sales of Windows PCs remain relatively stable at 300 million, but sales of iOS devices (mostly the iPhone) keep increasing until they now equal sales of Windows PCs. It's not hard to guess that if both trends continue, more people will be buying and using iOS devices over time.
When you spot any trend, ask yourself if something could change the trend. Trends either go up, down, or remain flat.
In the case of iOS adoption, sales of iPhones continue growing although sales of iPads keep slipping. Still unless the iPhone suddenly starts losing supporters, it's unlikely that sales of iPhones will plummet any time soon. Sales of iPhones could slow, but it's doubtful they'll suddenly reverse in the immediate future.
Now look at the trend for Windows PCs. Even though Microsoft is releasing Windows 10 and making it free for the first year, there's little reason for Windows sales to rise. At best, it will stay stable. At worse, it will start to drop.
The reason Windows is trending flat on its way to a gentle downward trend is because the Windows PC is no longer necessary to access the Internet or send e-mail. More people are relying on smartphones and tablets to access the Internet or send e-mail, so there's little reason for people to keep replacing their Windows PCs like they did back in the 90s. That indicates that Windows PC sales have nowhere to go but down.
How fast Windows PC sales will drop remains unknown, but it's far more likely that Windows PC sales will drop than that they'll suddenly start rising. The slowing sales of Windows PCs is the reason why companies like Intel, AMD, and Dell keep seeing slower and fewer sales each quarter. The Windows PC thrived when it had no competition. Now that it has to compete against smartphones and tablets, it can't help but lose some sales to rival technology. It's just inevitable.
If you want to hitch your future on future technology, that future technology is mobile and wearable computers, which means iOS and Android. If you want to cling to the past, you can stick with Windows, or just go all the way back to the past and cling to CP/M-80 to let yourself (and others) know that you have no intention of adopting growing technology.
The only difference between CP/M-80 and Windows is that CP/M-80 has no future while Windows is still struggling to stay relevant in today's world of mobile and wearable computers.
Microsoft is trying to keep Windows relevant by making it run on smartphones, tablets, and PCs, but they can't shrink Windows for wearables (think of the Microsoft Band). When Windows 10 finally arrives, we'll know how well Windows 10 actually works on smartphones and tablets.
Even then, the future of Windows won't rely on PCs but mobile devices for future growth. That means the future is clearly mobile and wearable computing. If you're going to shift to mobile and wearable computing, you might as well follow the leader and that leader is iOS.
Read more about how iOS devices have equaled Windows PC sales.