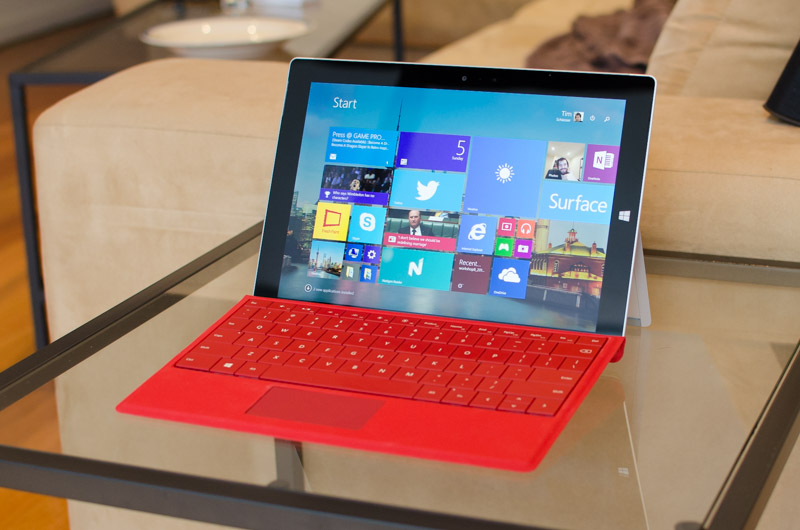 What it is: The Microsoft Surface tablet is designed to be both a laptop and tablet.
With tablet sales slowing for the iPad, many people are wondering if tablets were just a fad. While sales of iPads took off initially, they've been dropping steadily with each passing quarter. That's why many people are hoping that hybrid devices might sell better such as Microsoft's Surface tablets.
The initial idea behind the Microsoft Surface tablet was that it could be a tablet and with its optional (but necessary) keyboard, also double up as a laptop as well. By running Windows 8.1, designed for touch interaction, Microsoft hoped that people would choose the Microsoft Surface tablet instead of buying a separate laptop and tablet.
One problem with this hybrid approach is that it creates compromises, despite Microsoft's initial promise that the Surface tablets had no compromises. The first compromise is that as a tablet, the Microsoft Surface needs to be small and light, but it's heavier than competing tablets. While most tablets weigh less than 1.5 pounds, the Surface tablet weighs at least 1.5 pounds.
The second compromise is that as a laptop, the Surface tablet really needs a keyboard, which is an optional expense. The keyboard is thin so it's a compromise on traditional keyboards that provide more tactile feedback. Another compromise is that laptops are sturdy enough to be used on a lap, but the keyboard and hinge mechanism of the Surface tablet requires that it be used on a flat surface. So the Surface tablet does have compromises. It's not quite light like a tablet and it's not quite sturdy enough as a laptop.
Perhaps another compromise is the cost. Adding in the cost of the external keyboard, the Surface tablets cost roughly $600 and up for 64Gb of storage space and 4Gb of RAM. For $600, you can buy a much more powerful laptop.
Where the Surface tablet does shine is as an ultra-portable laptop. If you need a light laptop and don't mind paying more, then the Microsoft Surface is the best option. You likely won't do heavy duty video editing or spreadsheet analysis, but if you need a laptop and don't want to lug around a bulky traditional laptop, a Microsoft Surface tablet is your best option. When Windows 10 comes out, Microsoft Surface tablets will be even more appealing since it will shed its clumsy tile interface that Windows 8 introduced.
Ultimately, hybrid devices like the Microsoft Surface tablet can find a market of people who need an ultralight laptop and don't mind paying for the privilege. For everyone else, the Microsoft Surface tablet is too expensive as a tablet and too limited as a laptop. If you truly need both a laptop and a tablet and don't mind spending more, then the Surface tablet is for you. If you need both a laptop and a tablet, you might be better off waiting for tablet capabilities to improve with Apple's rumored larger iPad Pro, which will offer multitasking and a virtual trackpad to help you move the cursor easier. If you can't wait for the iPad Pro and you need to a laptop and tablet now (and you want to stay within the world of Windows), then get the Microsoft Surface. It will be a compromise, but then everything is always a compromise despite Microsoft's claims stating otherwise.