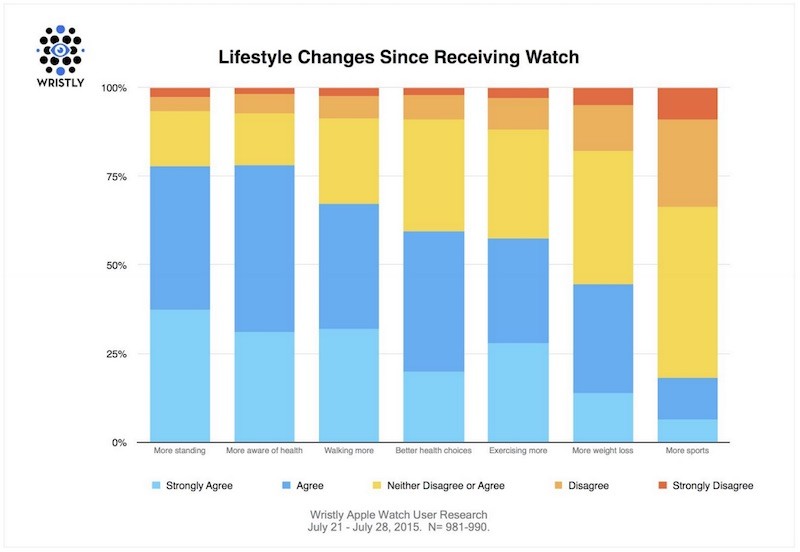 What it is: The Apple Watch defines the new market for wearable computers with one particular emphasis on health and fitness.
The first step to recovery from any addiction is to first acknowledge the problem. The second step is to measure your activity so you know what you need to change and what may or may not be working for you. When people try to lose weight, they count calories. When people try to break an addiction, they monitor how many times they stray back to their addiction. By monitoring your behavior, you can clearly see whether you're getting closer or further away from your goal.
That's what makes wearable computers such as the Apple Watch so compelling. With the Apple Watch, it's constantly monitoring your activity from standing every hour to how many calories you're burning during the day. Without the Apple Watch, it's impossible to know for sure how much activity you've done or where you might be from your goals. With an Apple Watch, you're constantly able to see what you've done every minute of the day. Not only does this give you a chance to see where you're at, but it also gives you an incentive to do more if you feel you're falling behind. In that way, the Apple Watch can keep you motivated to stay healthier.
In a recent survey by Wristly, Apple Watch users have been more aware of their health choices during the day. Once you're aware of your activity (or inactivity) during the day, you can make more conscious decisions to increase your physical activity or ignore it. However if you ignore it, you'll see the consequences of your actions displayed on your Apple Watch. A large majority of Apple Watch users report doing more standing and being more aware of their health simply by monitoring their activity.
If you think you don't have a use for an Apple Watch, ask yourself if you have a use for better health. The Apple Watch can't exercise for you, but it can help you track your physical activity so you meet a minimum requirement everyday. That translates into better health everyday, which translates into a healthier lifestyle. By making simple changes during the day, you can create a healthier life for yourself in the long run.
While the Apple Watch is more versatile than health tracking, that's the number one use that everyone can use. Whether you're a professional athlete or just an ordinary person, you can monitor your activity to see whether you're meeting healthy goals each day. As long as you're staying healthy every day, tomorrow will take care of itself, but it all begins with monitoring your behavior, and that's where the Apple Watch shines.
To read more about the impact of the Apple Watch on daily lifestyle choices, click here.