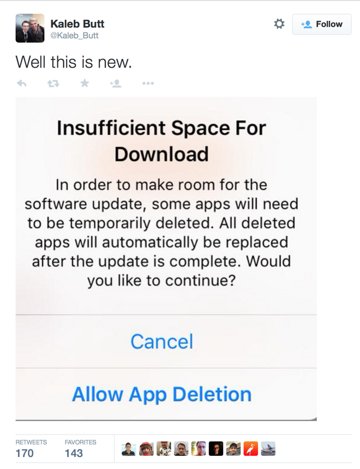 What it is: iOS 9 is the latest version of the operating system that runs on the iPhone and iPad.
This fall, expect Apple to release new iPhone models along with their rumored iPad Pro, a larger screen iPad. To power these new models, Apple plans to release iOS 9 sometime in the fall. While iOS 9 comes with plenty of new features, one interesting feature is the ability to temporarily delete apps so you can install the latest updates to iOS 9 in case there isn't enough room.
With more people loading their iPhones and iPads with apps, the 16Gb storage of the cheapest iPhone and iPad quickly runs out of space as you take pictures, video, or add music to your iPhone/iPad. Then if you try to install an update to iOS, you may not have enough room.
In the past, one way around this problem was to connect your iPhone/iPad to your computer though its USB cable and then download and install iOS updates to your computer before installing it on your iOS device. Now with iOS 9's app deletion feature, you'll no longer be forced to delete apps manually and then add them again.
Of course, this still won't solve the problem of running out of space when capturing pictures or video, or storing music and videos on your iOS device. But this new feature of iOS 9 addresses a common problem of installing the latest iOS software to keep your device up to date.
By making it convenient to install iOS updates, Apple hopes to keep more people current with iOS. That will avoid the fragmentation that currently plagues Android where large numbers of users are still stuck on devices using one or two generation old Android versions with no hope of getting updates on their devices because the manufacturer doesn't want to spend time testing updates. Instead, they'd rather you simply dump your Android phone and buy a new one since that's the only way manufacturers can make money.
Apple, on the other hand, can make money through the sale of apps, e-books, music, and videos so it's in their best interest to keep their devices as current as possible. Naturally there comes a point where hardware can't keep up with the demands of the latest iOS updates, which is the case with multitasking and split screen view that will only work on iPad Air 2 models. Still, an iOS device can often last years before finally getting too old to keep up with iOS demands any more.
If you like the idea of keeping an older device current as long as possible, then you'll want to get an iPhone or iPad and keep it current for years using iOS. If you like the idea of constantly buying new devices just to get a new operating system version, you can choose a non-Apple device.