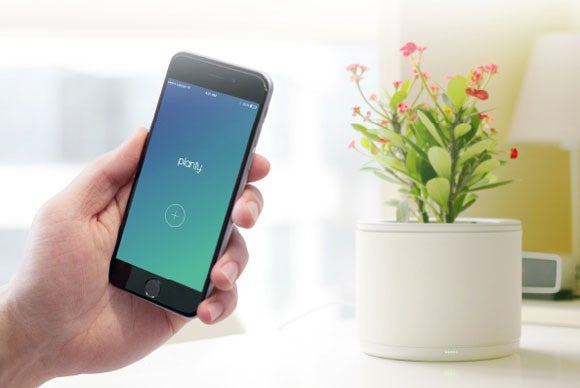 What it is: Planty is a new item designed to monitor soil conditions of a plant and send you that information to your smartphone.
With computers getting smaller, it's only inevitable that one will be small enough to fit inside a potting container. Now using various sensors to measure moisture, temperature, and light, this smart pot, dubbed Planty, can send this information to your smartphone. That way you get real-time information on the conditions of your plants. In case you can't get to the plant, Planty can even water your plants for you.
While this may sound like a trivial application of a computer, it points out the usefulness of smart plant monitors. The more you know about the optimum conditions of a plant compared to its current conditions, the better you'll be able to modify its conditions to bring it closer to its optimum state. That means no longer killing plants through neglect, ignorance, or just plain clumsiness.
Take this one step further and you can see how technology like Planty could help farmers grow crops. Using real-time information coming from plants, farmers can optimize their use of water. If a particular plant detects excessive pest activity, farmers could treat that area while ignoring other areas that aren't being attacked by bugs at the time. Such real-time, accurate information lets farmers continually improve the growing conditions of their plants on an almost individual basis so they all grow to their optimum size.
The key to putting computers everywhere is getting real-time information. Just like wearable computers promise the ability to monitor a person's current health in real-time, so can products like Planty offer real-time information about plants, buildings, weather, traffic, and practically anything else you can think of. Surprisingly, much of our daily lives are run by random, unknown information. Traffic lights try to adjust for traffic but they're rarely coordinated with other traffic lights. Imagine an entire city's network of traffic lights coordinating traffic movement to optimize flow, and you can see how valuable real-time information can be.
Products like Planty simply point the way towards the future. Computers will be everywhere and knowing how to get real-time information from them will be critical to tomorrow's success. The difference between real-time information vs. today's world of the unknown will be like the difference between talking to someone over a mobile phone compared to writing letters and waiting for a reply sent by Pony Express. The more rapid the information, the more opportunities it offers to improve life in ways we can't imagine just yet.
Planty is the beginning of a new trend of computers everywhere. Get ready for them. This is the future whether you like it or not.