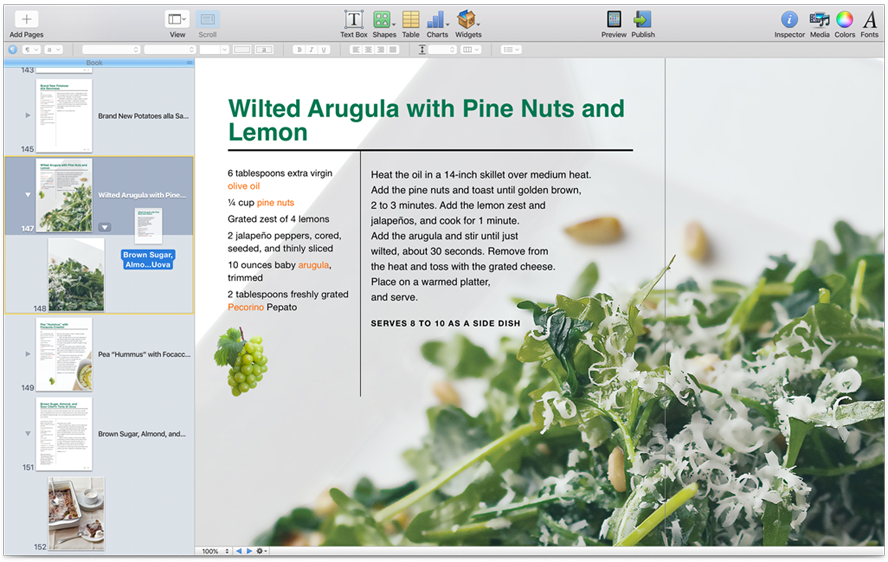 What it is: iBooks Author is Apple's free interactive e-book editor.
Currently, Amazon is the most popular destination for e-books with Nook and Kobo trailing way behind to the point where both are largely irrelevant. If you want to sell an e-book online, your best bet is to go through Amazon.
To create an e-book, you can use a variety of tools, but the simplest is just to use Apple's own Pages word processor and export the document as an ePub file. Instantly you have an e-book file. The problem with standard e-book files is that they basically take a printed book with static text and pictures and turn it into a digital book with static text and pictures. That makes as much sense as filming a stage play and calling that a movie. Technically it is, but it doesn't take advantage of the full features of the new medium.
That's why Apple created iBooks Author to give you the power to create interactive e-books that can incorporate text, graphics, audio, video, animation, and Keynote slideshows. The key is to take the printed book and move it to the interactive medium of the future. The problem is that to read interactive iBooks, you need an iPad while to read a traditional ePub file, you can use any computer, smartphone, or tablet. That makes static e-books far more popular.
Yet that trend can't continue. The future points to a world of interactive e-books, which means that Apple will need to expand the devices capable of reading interactive iBooks. They did this recently when they allowed Macintosh computers to run the iBooks program that can display interactive iBooks. However, Apple needs to port this capability to the iPhone, Apple TV, and possibly other platforms as well to gain widespread support. The problem with offering widespread support is that you automatically restrict the capabilities since you need everything to work identically.
that's the problem with Kindle e-books. Amazon also recognizes that the future involves interactive e-books, so they created a new Kindle Creator program that allows limited interactivity, but since Kindle e-books need to run on multiple platforms, this interactive capability is limited. That also means interactive e-books are also limited.
The key isn't to make money selling interactive e-books just yet. The real money is learning to develop and create interactive e-books in the first place. Just as early movies resembled filmed stage plays, so do early e-books resemble printed books. If you look at movies today, they take full advantage of special effects and multiple scenes that could never be displayed on a stage. That's because today's movies embrace the freedom that film offers rather than stick with the limitations of stage plays.
That's exactly the trend that interactive e-books need to follow. Instead of trying to create a digital version of a printed books, e-books should be embracing the interactive nature of tablets and computers, and create books for that market. Actually, they shouldn't be called books any more than movies are called filmed stage plays or cars called horseless carriages. Apple should create a new name beyond iBooks to signal to people that interactive e-books are far different from printed books or today's current, crude e-books that mimic printed books.
iBooks Author is a step in the right direction, but it's mostly for pioneers in publishing. The real money is still in ordinary e-books, but that will eventually change. Until then, make money off traditional e-books but learn iBooks Author as a step towards the future.