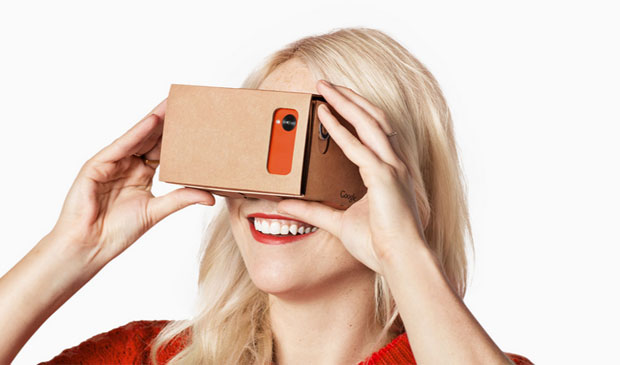 What it is: Google Cardboard is an inexpensive cardboard kit designed to hold a smartphone so you can use it as a virtual reality headset.
When you look at virtual reality headsets like Microsoft HoloLens, you realize that they're expensive. That's why Google came up with Google Cardboard, a cheap cardboard kit that you can use to tuck your smartphone inside to hold to your face as a far less expensive and bulky virtual reality headset. The big advantage is that it makes virtual reality headsets affordable. The big drawback is that it still retains the disadvantages of virtual reality, namely that it requires you to block out the world around you to focus exclusively on seeing the virtual reality image.
For specialized uses such as training, this can be handy, but Google Cardboard is less convenient than Microsoft HoloLens because at least with HoloLens you can strap it around your head so you can keep your hands free. With Google Cardboard, you have to hold the device with one or both hands. Where Microsoft HoloLens lets you manipulate virtual objects with both of your hands, Google Cardboard limits you to simply viewing virtual reality images.
You won't want to use Google Cardboard for training purposes since Microsoft HoloLens and other virtual reality headsets are more convenient, and you won't want to use Google Cardboard for everyday use because of the time needed to assemble and disassemble it. That means the only real advantage of Google Cardboard is cost.
Rather than tuck your smartphone inside Google Cardboard, why not just aim your smartphone and look at the screen? That's faster and simpler. Then when you're done, tuck it back in your pocket or purse. That's far easier than sticking your smartphone inside Google Cardboard. Just watch how Ferrari uses augmented reality (not virtual reality) to let you point an iPad at a Ferrari to see different colors or the inner workings of the car.
Now would your rather point an iPad at a car and see different images, or would you rather tuck your iPhone inside Google Cardboard, hold it to your face, then disassemble the whole thing when you're done looking at the image a minute later?
Google Cardboard offers cost savings and that's it. Microsoft HoloLens might be more expensive, but when you want to immerse yourself in a virtual reality world, its hands-free operation makes it superior to Google Cardboard. When you just want to peek at something, it's far simpler to use your smartphone or tablet by itself rather than stuffing it inside Google Cardboard.
Google Cardboard is an interesting idea that fails in practical use. It might find a use still, but it won't displace dedicated virtual reality headsets or the simplicity of just aiming a smartphone or tablet on its own. When examining technology, don't get enamored by its features. Ask yourself how you would use it and then you'll see its real value.