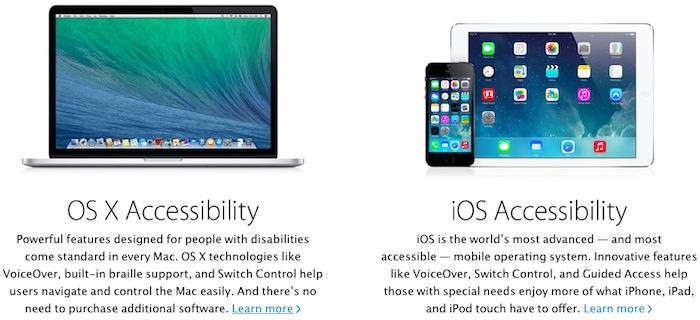 What it is: Accessibility features allow people with sight, hearing, or physical disabilities to use Apple products without compromise.
While most people are fortunate not to suffer from hearing, vision, or physical disabilities, a large number of people are not. In the old days, using a computer for these people meant buying special additional equipment. Not only was such equipment costly, but they were often clumsy to use. Unlike many other companies, Apple has devoted much time to insuring that all of their products are completely accessible to everyone using built-in accessibility features in OS X and iOS.
If you don't have a physical disability, you can simply ignore these built-in accessibility features, or you can still use them to make your Macintosh, iPhone, or iPad even easier to use for you. If you do have a physical disability, using an Apple product means you don't need to buy expensive add-on equipment, which could get especially clumsy to use if you want to use an iPhone or iPad.
By focusing on making sure their products are accessible to everyone, Apple caters to a small share of the market. Yet this simply demonstrates Apple's commitment to thinking about the design of their products ahead of time. Rather than just slap together parts that represent the least expensive option, Apple thinks ahead and deliberately designs their products for everyone to use. The minority of physically disabled people who buy and use Apple products aren't going to represent a large profit (which is why other companies ignore the needs of the physically disabled), but that's not the point. Like all companies, Apple wants to make a profit, but unlike most other companies, Apple isn't trying to make a profit at the expense of selling poorly designed or engineered products that disappoint the user.
Apple's commitment to making their products accessible to everyone simply reflects their desire to create the best products possible regardless of someone's physical abilities. Given a choice between buying products from companies that just want to make a profit off you or buying products from a company that actually cares about the quality of their products first, which company you buy from reflects on your own values. If you just value money at the expense of everything else, there are plenty of companies that support your point of view.
However if you value more than just money but craftsmanship and care, then you'll probably have no reason not to consider Apple products first and foremost.
To read more about Apple's accessibility features, click here.