What it is: Copying a rival may appear to be successful in the short-term, but in the long-term it ultimately leads to reacting instead of leading.
When Google initially created Android, they envisioned that it would challenge the current smartphone leader, which was Blackberry. Then Apple introduced the iPhone and Google hurriedly changed Android to mimic the iPhone. Samsung took it one step further and designed smartphones that looked like the iPhone too.
The idea of copying an existing product may seem like a quick way to succeed, and it can work initially. The problem is that it's not a sustainable strategy. If all you're doing is copying others, you have to wait and react. By always being a follower, you can never be a leader.
Just look at how much time and money Microsoft has wasted copying others:
The Microsoft Network (an online service to copy CompuServe)
QuickPascal (to copy Turbo Pascal)
Zune (to copy the iPod)
Silverlight (to copy Adobe Flash)
Surface tablets (to copy the iPad)
Windows Mobile (to copy Palm OS)
Windows Phone (to copy the iPhone)
Windows RT (to copy iOS)
Bing (to copy Google)
Notice that each time Microsoft tried to copy an existing product, that existing product maintained its lead. When that existing product eventually failed, Microsoft's copycat product also failed.
At one time, Flash was considered crucial for web sites. When Flash didn't run well on mobile devices, Flash died and took Silverlight's future down with it.
When Apple was selling iPods like crazy, Microsoft developed the Zune. then the market for digital music players plummeted when smartphones essentially duplicated the functions of an iPod. The iPod's demise took Microsoft's Zune down with it.
Imagine if Microsoft had simply spent their time and money developing innovative products that solved problems that other companies were ignoring. Not only would Microsoft have new product lines, but they also wouldn't have suffered the fate as the leading products they were trying to copy.
Samsung still hasn't learned that lesson either. When Apple came under fire because the iPhone 6 was so thin it could bend, Samsung gleefully jumped all over this fact by promoting the idea that their own phones didn't bend. Then Samsung copied Apple by creating a thin smartphone that (not surprisingly) also bends.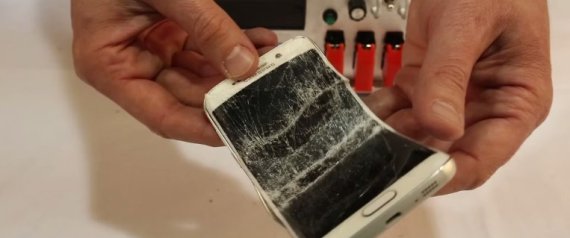 Even worse, not only does the Samsung phone bend, but its glass screen also breaks, which the iPhone 6 did not under the same amount of pressure. By first mocking Apple for creating thin phones that can bend, then creating their own thin phones that bend, Samsung exposes their own hypocrisy.
To make their products appear better than rivals, Samsung got caught paying people to post negative reviews of other products. By continuing to focus on rivals rather than focus on building the best products possible for customers, Samsung wastes time and money.
The path to success is never to tear others down so you can get ahead. Neither is the path to success mimicking others. After all, who made more money? Elvis Presley or Elvis Presley impersonators?
Samsung and Microsoft keep wasting time and money copying others when they could be using their brainpower to solve problems by building unique products of their own. Since creativity takes thinking, it's easy to see why so many corporate executives avoid doing that. After all, it doesn't take much creativity to grant themselves huge bonuses every year for doing nothing but copying others and leading a company into long-term failure.