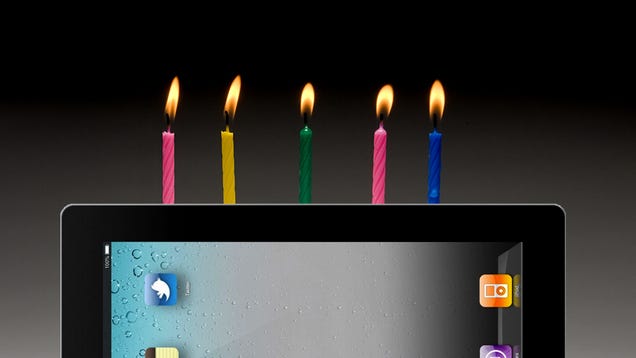 What it is: Criticism of new technology tends to look backwards.
Criticism of new technology tends to compare it to existing technology. If the new technology does not exactly duplicate existing technology, then critics claim the new technology must fail.
Yet such backwards thinking insures that everything must be a complete failure. Since this isn't the case,  this exposes the main flaw of most criticism, which is to completely miss the advantages new technology offers while overemphasizing the limitations that new technology fails to address that current technology can easily solve.
At the iPad's fifth birthday, nearly everyone can see that the iPad has been a massive success redefining the tablet market. Yet initially many people heavily criticized the iPad and claimed that it would fail. There's nothing wrong with holding an opinion, but when you use flawed logic to bolster your opinion, then you wind up looking foolish in the future because your arguments had no basis to begin with.
Gizmodo offers a look at some of the common complaints against the iPad when it first appeared and why those arguments were ultimately baseless.
Perhaps the most dominant early complaint was that the iPad didn't run Flash. The assumption was that Flash was critically important for all computers to run, therefore if the iPad didn't run it, the iPad couldn't be worth using.
This assumption completely ignored the fact that Flash simply didn't run very well on mobile devices. As much as you might want Flash on a smartphone or tablet, it wouldn't work very well. Android smartphone and tablet manufacturers often promoted the idea that their devices could run Flash. Yet none of those manufacturers ever told customers that running Flash would create a poor user experience.
Early versions of Flash wouldn't recognize touch gestures. When Adobe fixed that, Flash still didn't run efficiently without draining battery power. The technical features of Flash proved so problematic that Adobe eventually cancelled their efforts to bring Flash to mobile devices, thereby demolishing the argument that Flash was crucial for the iPad.
Another early argument against the iPad was that you couldn't type on it. That assumed that you needed a physical keyboard, but a virtual keyboard offers more versatility (it can change to display foreign languages). The obsession with a physical keyboard also means limiting apps to relying on a keyboard.
Yet when you look at many iPad apps, they're easy to use precisely because they don't rely on a keyboard. They rely solely on touch gestures that are far faster and intuitive to use. Microsoft's Surface tablets cling to a physical keyboard (as an added accessory) and thus handicaps software to rely on the existence of a physical keyboard. By removing a physical keyboard, the iPad forced app developers to think of interaction without a keyboard, and it wound up creating a new world of touch gesture interaction instead that a keyboard would have limited.
Looking back at the early criticism of the iPad, you can now look at early criticism of the Apple Watch and see if critics have learned their lesson. (The answer is no.) Apple Watch critics will likely compare the Apple Watch to existing technology and condemn it to failure, or they'll fail to see what it can do and focus on what it can't do. That's like criticizing a car because it can't mix a smoothie like a blender can, so therefore a car must be useless. When you use faulty logic to criticize anything, don't be surprised when your argument utterly fails in the future and makes you look foolish in hindsight.
Criticism is fine as long as it's based on reality instead of the past. The next time you read criticism of anything, carefully examine the logic behind the complaints. In many cases, you'll find that there's no logic whatsoever, which means you can safely assume that the criticism is just as useless as the logic they used to create it.